Pastornicky glad to be back with Braves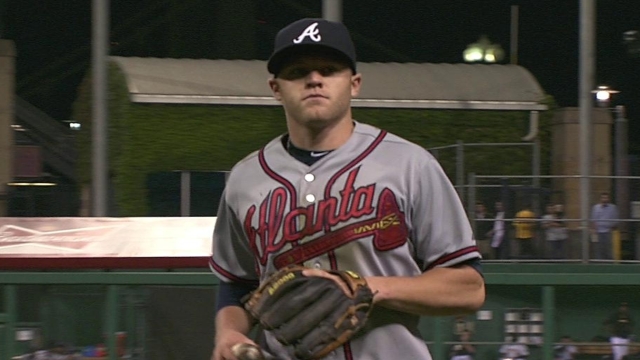 DENVER -- Tyler Pastornicky's return to the Braves roster came on less than ideal conditions. He got a late night call Monday night and flew into cold and snowy Denver early Tuesday morning in time for a split doubleheader, with temperatures ranging from 23 to 30 degrees. He also pinch-hit on Wednesday, flying out to lead off the 12th inning.
It's not the best situation to come off the bench for the first time of the season, but the infielder, up from Triple-A after Jason Heyward was placed on the disabled list, was happy to be back with the club he played 76 games for in 2012, starting as the Opening Day shortstop.
"I was born and raised in Florida, so I never had to deal with any kind of temperature like that," Pastornicky said of his pinch-hit fly out in Game 2. "It was definitely an experience. I put a good swing on the ball. It was fun to get up there and get an at-bat the first day I was here. I'm ready to help the team."
Pastornicky's performance at Triple-A Gwinnett confirms his readiness. In 18 games to start the season, he hit .351 (26-for-74) with six doubles, one homer, and seven RBIs.
"I had a great spring, and it just kind of carried over from there with my confidence," Pastornicky said, noting that he's made no changes in his approach or mechanics at the plate. "The biggest thing that I've changed is the confidence thing, knowing that I can play here and going through what I did last year, and having fun -- not putting so much pressure on myself. Last year, I put too much pressure on myself. It kind of limited what I could do when I was out there, rather than going out there and having fun. That's what I tried to do in spring, and it worked, and it's working in Triple-A."
During Spring Training and at Triple-A, Pastornicky has been making a transition from shortstop to second base, starting 14 games at second, two at short, and two as a designated hitter.
"Second's come pretty easy to me," Pastornicky said. "Especially coming from short. Short's a tough position. Any time you move to a position coming from short it's going to seem a little easier. It's definitely been good. I think I've made the transition pretty well."
The biggest challenge has been working with a variety of double-play partners through Grapefruit League and Triple-A, staying flexible and being ready to adapt in situations that have been consistently changing.
"You have to get used to it," Pastornicky said. "Everyone likes a different feed. Everyone likes the ball thrown to a different spot. You just kind of feel each other out and learn each other's tendencies and go from there."
What was new in Spring Training was getting some game experience in the outfield.
"It was actually my first inning I've ever played ever, my whole life, in the outfield," Pastonicky said. "I think I ended up playing maybe seven or eight innings. It went well. I made a couple plays. I did a lot of early work last year, and I continue to do a lot of early work, so I felt prepared. If I need to get out there, I will. It's not an issue.
"If you can play a lot of positions, hopefully they'll find a place for you."
Owen Perkins is a contributor to MLB.com. This story was not subject to the approval of Major League Baseball or its clubs.