Freeman's return from oblique injury shelved for a day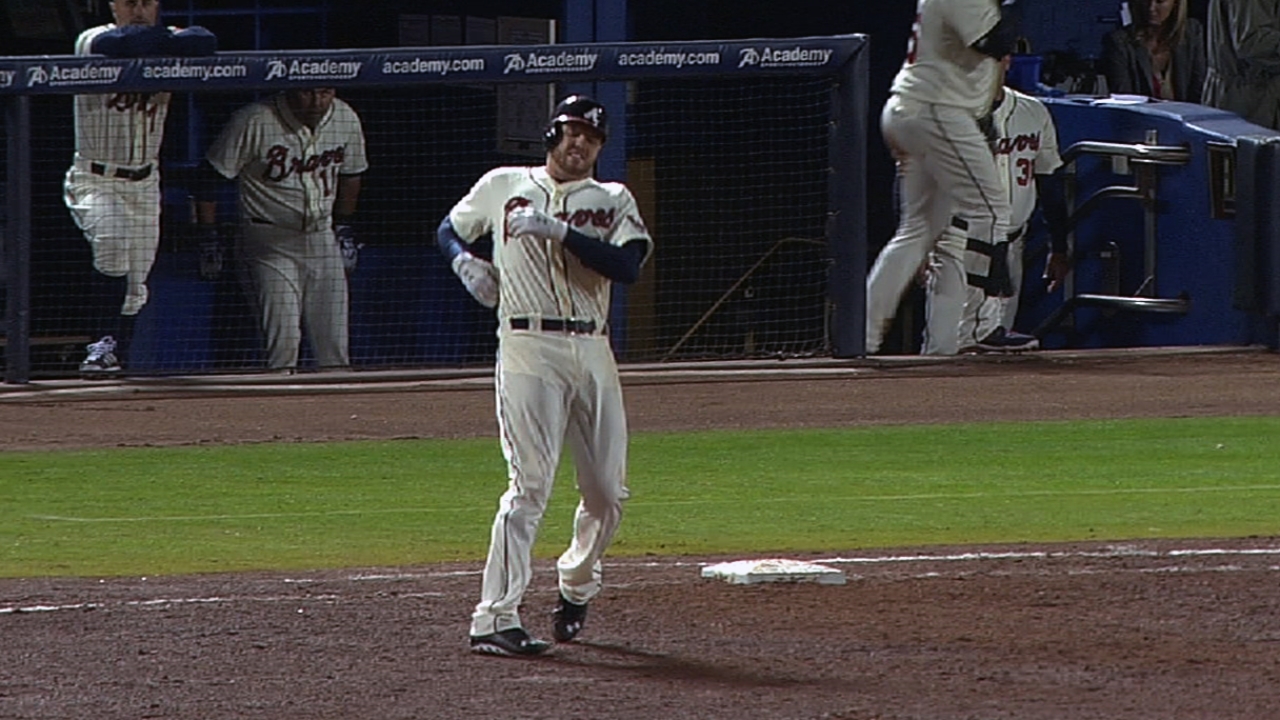 DENVER -- For two weeks, Freddie Freeman has been counting down the days to Monday, April 22nd. It's the day he was eligible to come off the disabled list, and although Freeman was raring to go, Mother Nature had other plans, dropping snow and cold temperatures in Colorado and forcing a postponement until Tuesday.
"I'm off the DL, that's all," Freeman said. "I'll wait 'til tomorrow. I feel great. Healthy, happy to be here. Those last 15 days have been hard watching the team on TV. It's just nice to be here."
Freeman went on the DL with a strained right oblique on April 7, and after a three-game rehab with Triple-A Gwinnett, he's ready to return with no restrictions. The Braves optioned David Carpenter to Triple-A on Monday to make room on the roster for Freeman.
"Freeman was playing," manager Fredi Gonzalez said of his plan to start his first baseman in the series opener Monday. "He's good."
Before his injury, the Braves clean-up hitter was off to a torrid start, hitting .412 (7-for-17) with a double, a homer, and seven RBIs in five games.
"Hopefully we can get back on the winning ways tomorrow," Freeman said. "We're facing [Jeff] Francis. Hopefully we can get out there and get rolling again. It was a tough series in Pittsburgh, but we're going to have those during the year."
It's the Braves first trip back to Denver since Freeman suffered from corneal abrasions as a result of "dry eyes" aggravated by dry and windy conditions at Coors Field last May. After missing several weeks with blurred vision, he finally found contact lenses that wouldn't aggravate him, and has employed a special pair of sports goggles he wears in the field.
"I didn't even know where we were playing, I just knew it was April 22nd when I was coming off," Freeman said. "I was just counting down those days. I didn't know we were here until last week, and then I saw. I was kind of excited, and then I was like, 'Oh man, that's where my eyes went bad.' Hopefully the wind dies down and I can get through the series okay."
Freeman was bubbling over with enthusiasm, eager to get back in the lineup and help his club resume their pace-setting start to the season.
"I had the rehab games, I felt great, and I'm here," Freeman said. "I had no pain, no restrictions, and I've been letting it fly the last couple of days."
Owen Perkins is a contributor to MLB.com. This story was not subject to the approval of Major League Baseball or its clubs.