Pena's rare homer gives Braves seventh straight win
Shortstop's 10th-inning homer puts Atlanta on top for first time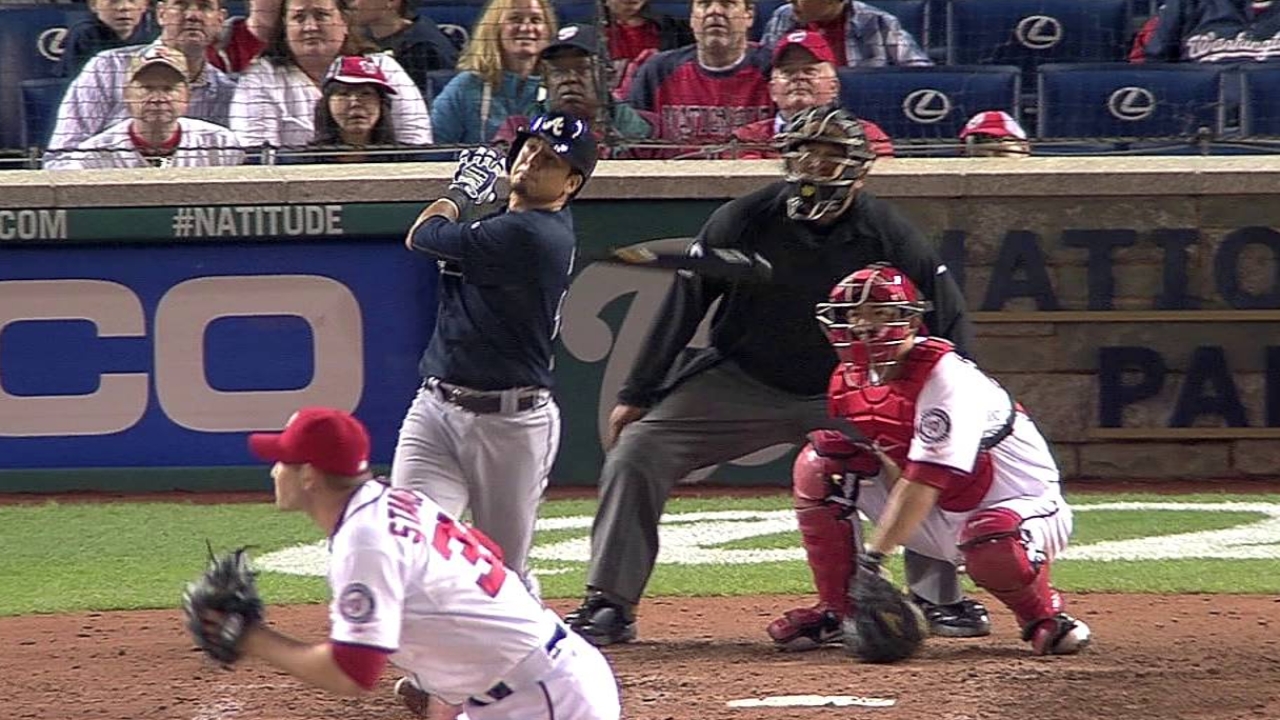 WASHINGTON -- Staring at the possibility of opening their season series against the Nationals with a deflating loss, the Braves proved resilient and began the season series against their National League East rivals in fitting fashion with a thrilling victory.
After encountering a four-run deficit through the first two innings at Nationals Park on Friday night, the Braves scored two runs with two outs in the ninth inning and claimed a 6-4 win over the Nationals after Ramiro Pena's two-out, two-run home run in the 10th inning.
"We're having fun out there," Braves corner infielder Chris Johnson said. "We know the game is not over until we're back in the clubhouse. I think there is a deep part of everybody that thinks we are going to come back every time it happens. It's a good feeling. We don't want to do it every night. But it was good."
Johnson highlighted his second three-hit game of the season with a two-out seventh-inning home run that halted Ross Detwiler's dominance and marked the start of an improbable comeback that was aided by the Nationals bullpen's five walks in the final three innings.
This late-inning patience, combined with Ryan Zimmerman's costly throwing error with two outs in the ninth inning, set the stage for Pena to deliver the biggest hit of his career. The utility infielder's decisive home run off right-handed reliever Craig Stammen sailed deep over the right-field wall and into the Nationals' bullpen, who cost Detwiler what appeared to be a sure win.
"I was feeling good," Pena said. "I saw the pitcher and I thought I'm going to take a chance. I just wanted to concentrate on one pitch. It was a good thing that I didn't miss it."
Pena, who was signed as utility infielder in December, has already made his presence known in Atlanta. He has delivered key hits in three of the nine wins the Braves have notched through the season's first 10 games.
"What a pickup that young man has been," Braves manager Fredi Gonzalez said after his club opened this three-game series with its seventh straight victory.
Pena also played a key role in the ninth inning, when his sacrifice attempt turned into a perfectly placed bunt single. After Blake DeWitt's sacrifice bunt put runners on second and third, Jason Heyward drew a two-out walk off Drew Storen, who served as the closer because Rafael Soriano had pitched each of the previous three nights.
That loaded the bases and set the stage for Justin Upton to follow with a sharp grounder to his childhood friend Zimmerman, who made a diving stab behind third base before making an errant throw that sailed wide of second base and into right field.
Johnson and Pena scored easily to tie the game and erase the four-run advantage the Nationals had gained against Julio Teheran. After struggling through the first two innings, Teheran and the Braves bullpen limited Washington to just two more hits the rest of the game.
"The whole time, the way our bullpen was throwing zeros up there, you felt like you were in the game," Gonzalez said. "We keep talking about our offense and all that stuff. But our pitching has kept us in the ballgame and given us a chance to [come back]."
After Detwiler allowed one run and four hits over seven innings, Heyward started a two-out, eighth-inning rally with a walk. Upton followed with a single before Tyler Clippard brought the Braves to within two runs on consecutive walks to Evan Gattis and B.J. Upton.
The bases-loaded walk to B.J. Upton came after Clippard got ahead with a 1-2 count. The Nationals were fortunate to escape the eighth inning with the lead. Storen entered after the bases-loaded walk and allowed Dan Uggla to hit a deep drive that center fielder Denard Span caught on the warning track.
"We just didn't make the pitches," Nationals manager Davey Johnson said. "We just didn't attack the hitters. We just kind of gave them some momentum."
The Nationals seized the early momentum as they scored two runs in each of the first two innings. Bryce Harper hit an opposite-field home run in the first inning after Span had reached courtesy of an errant throw that pulled Gattis off the bag just as he was trying to get comfortable during his first career game at first base.
Nationals catcher Kurt Suzuki walked to open the bottom of the second and advanced to second base on Detwiler's sacrifice bunt. Span followed with an RBI single to left that drew an unnecessary throw to the plate from Justin Upton. The throw allowed Span to race to second and easily score when Jayson Werth followed with an RBI single.
Showing some impressive mental resolve, and following the guidance of veteran catcher Gerald Laird, the 22-year-old Teheran allowed the Nationals to produce just two baserunners -- courtesy of two fifth-inning walks -- in his final four innings.
"For a young kid, the wheels definitely could have come off, and then next thing you know, he gives up five or six runs and then we're into the bullpen early in the game," Laird said. "He bounced back and showed me something. He battled."
Mark Bowman is a reporter for MLB.com. This story was not subject to the approval of Major League Baseball or its clubs.