Venters 'upbeat' after doctor's visit for elbow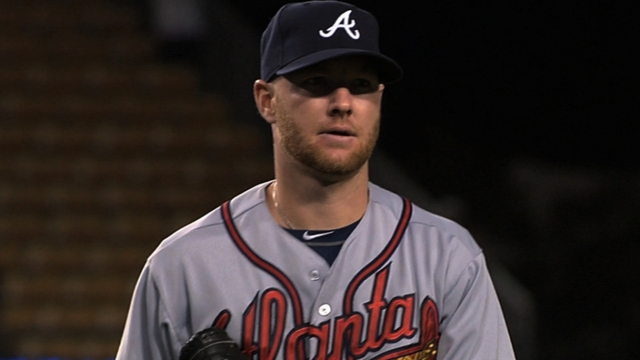 ATLANTA -- Jonny Venters counts himself fortunate to have gained some optimism from Tuesday's visit with Dr. James Andrews. Instead of learning that he would need to undergo surgery, the Braves left-handed reliever was pleased to hear his pitching elbow could return to health after a month of rest.
Andrews prescribed four weeks of rest after injecting Venters with a platelet-rich plasma, which is used to help heal damaged tissue. If all goes well, Venters could be cleared to begin a throwing program in early May.
Venters wore a brace to stabilize his arm as he spoke to reporters early Wednesday evening.
"It's always in the back of your mind when you have something like this that you don't really know what's wrong in there," Venters said. "But after talking to a few doctors and Dr. Andrews, they felt good about this PRP shot and that it could do the trick. So I came out of it positive and upbeat."
Because Venters had already undergone Tommy John surgery, the results of an MRI exam would not have been conclusive enough to determine why he battled elbow discomfort during the first half of last season and throughout most of March.
"I'm really not sure when I'll notice a difference other than when I start playing catch," Venters said. "So hopefully when I pick up a ball in four weeks or whenever they let me, it feels good."
Venters was not ready to commit to a specific timetable for his return. But he said he hopes to rejoin Atlanta's bullpen by the end of May.
"I just throw the ball and they tell me what I'm allowed to do," Venters said. "I'll try to push it as fast as I can. But whenever they tell me I'm good to go, I'm good to go."
Mark Bowman is a reporter for MLB.com. This story was not subject to the approval of Major League Baseball or its clubs.