Gattis gets a taste of Opening Day environment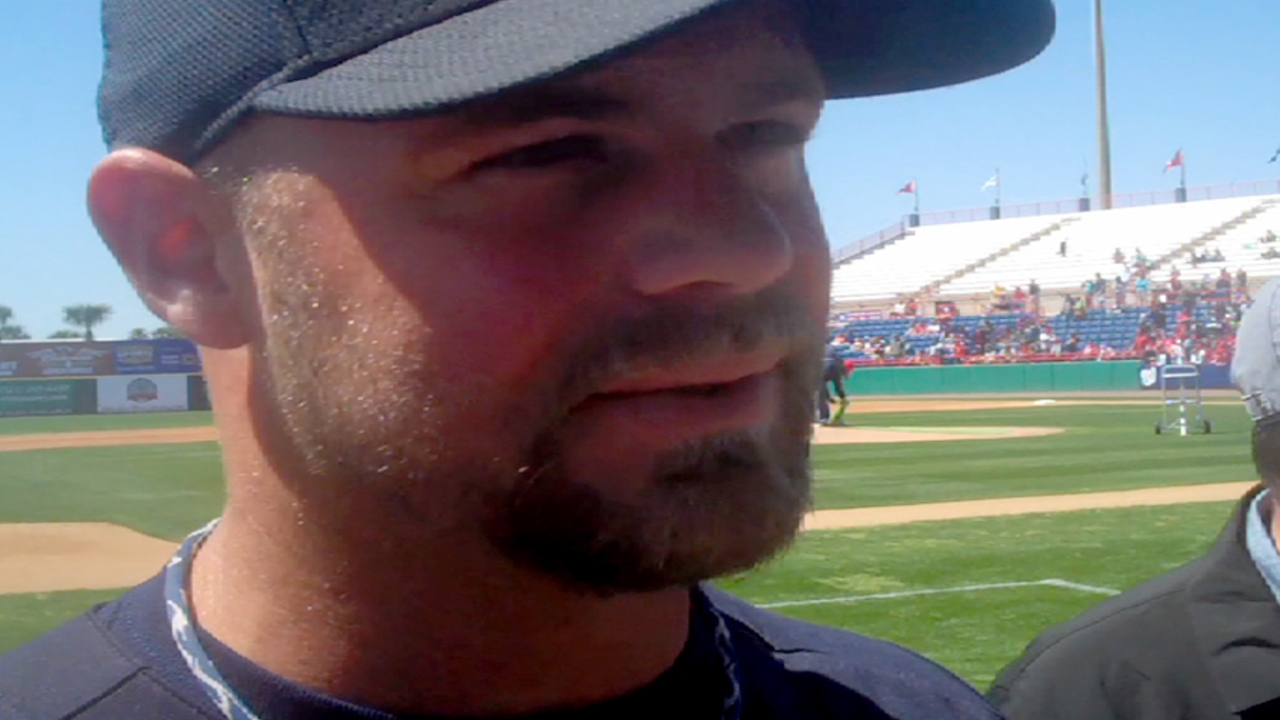 ATLANTA -- When Evan Gattis was invited to Turner Field to be recognized as Class A Rome's 2011 Player of the Year, he was a relatively unknown Minor Leaguer who was just starting to believe that his crazy journey might lead him to the Major League level.
Less than two years later, Gattis finds himself as one of the Braves' most popular figures. When the 26-year-old rookie catcher was introduced before Monday's Opening Day game against the Phillies, he heard a loud chorus of cheers from many of the fans who are looking forward to the start of his big league career.
"I'm excited," Gattis said. "I've got a lot of people in [the stands] and I've had a lot of fun. Everybody is excited for me."
Among those most excited for the powerful slugger are his father, Jo Gattis, stepmother, Sue, and 12 other friends and family members who traveled from Texas for this special event. Included in this group was his collegiate coach at the University of Texas of the Permian Basin, Brian Reinke, who gave Gattis a chance to begin playing baseball again after he spent four years overcoming depression while assuming such roles as a janitor, cook and ski lift operator.
"I've been to a lot of games," Jo Gattis said nearly two hours before Monday's game. "It hasn't sunk in yet."
Gattis' friends and family members drove from Dallas to Pearl, Miss., where they saw him hit a monstrous home run in Saturday's Futures Game against some of the Braves' top Minor Leaguers. They continued their journey to Atlanta on Sunday and will be present when Gattis is expected to serve as Atlanta's starting catcher for Wednesday's game against the Phillies.
As he sat at his locker late Monday afternoon, Gattis was looking forward to the chance to feel the energy of the sold-out crowd. His only previous experience in an Opening Day environment came when he attended a Rangers opener as a young kid.
"I just can't wait to get out there and be a part of that environment," Gattis said. "I've never been in a packed stadium like this."
When Gattis learned he would be on Atlanta's Opening Day roster, he was assigned jersey No. 32. But he opted to change to No. 24 because he "liked it more."
Mark Bowman is a reporter for MLB.com. This story was not subject to the approval of Major League Baseball or its clubs.