Venters slated for elbow checkup with Dr. Andrews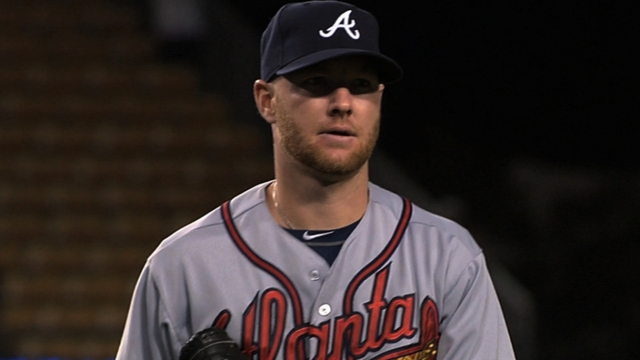 LAKE BUENA VISTA, Fla. -- The Braves should learn the extent of Jonny Venters' elbow injury next Wednesday, when he is scheduled to meet with Dr. James Andrews.
"Hopefully it's nothing major," said Braves manager Fredi Gonzalez. "I have my fingers crossed about that."
Venters exited Tuesday's tilt against the Tigers with what the club termed a sprained left elbow. The southpaw said he felt an uncomfortable "pulling sensation."
"Any time you hear that, you think the worst," said Braves closer Craig Kimbrel. "But as of right now, we're just hoping the best and that it's not too bad."
Venters underwent Tommy John surgery on his left elbow in 2006, a procedure performed by Andrews. Venters missed that entire season.
The Braves' medical staff plans to provide treatment to Venters' elbow over the next few days, before he visits Andrews in Birmingham, Ala. An All-Star in 2011, Venters has appeared in 230 games for Atlanta over the last three years, compiling an ERA of 2.23 over that span. In seven spring outings, he surrendered six earned runs on 13 hits in 6 2/3 innings.
"It's disappointing, because I worked hard this offseason and this spring to get ready for the season," Venters said. "Unfortunately, this had to happen at this time. It's nothing I have control over, so I'm just going to do everything in my power to get healthy."
Zack Meisel is a reporter for MLB.com. Follow him on Twitter @zackmeisel. This story was not subject to the approval of Major League Baseball or its clubs.