Pastornicky among latest round of roster cuts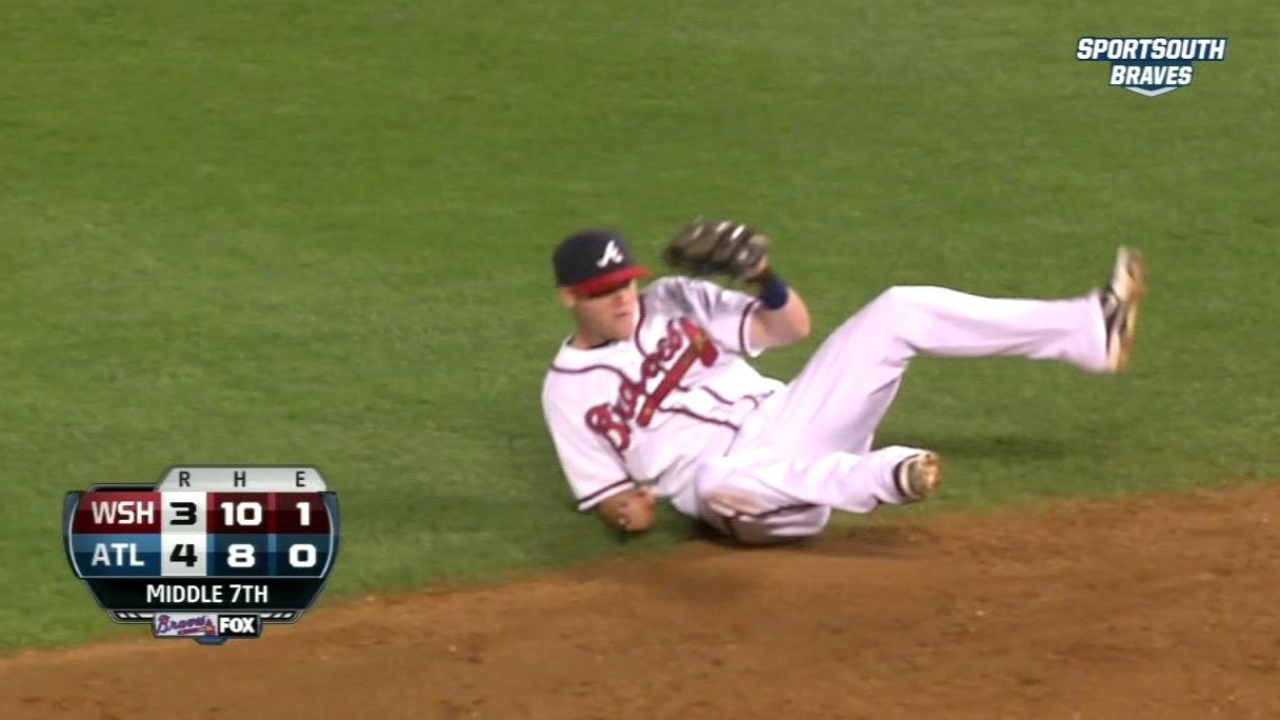 LAKELAND, Fla. -- One year after beginning the season as Atlanta's starting shortstop, Tyler Pastornicky will return to the Minor League level with the assignment to improve his versatility and continue developing the offensive skills he showed over the past few weeks.
Pastornicky's impressive run through this year's Grapefruit League season came to a close on Tuesday morning when the Braves optioned him, outfielder Jose Constanza and right-handed reliever David Carpenter to Triple-A Gwinnett.
"[Pastornicky] is not going down and being forgotten," manager Fredi Gonzalez said. "We've got a plan for him. I told Tyler to trust that this organization is going to do the right thing for him. This guy is a valuable piece for us. He's had an unbelievable Spring Training for us. This guy is a big piece for us. What we start with in April may be different in May or June."
Pastornicky hit .375 (21-for-56) with four doubles and a home run in 26 Grapefruit League games. While defensive concerns seem to erase the likelihood of Pastornicky serving as an everyday shortstop at the big league level, his athleticism and offensive skills could lead him to serving as a valuable utility player.
Pastornicky will serve as Triple-A Gwinnett's starting shortstop until Paul Janish returns in early April from offseason shoulder surgery. Once Janish is cleared to play, Pastornicky will play second base and spend some time as a shortstop and outfielder.
"He needs to play," Gonzalez said.
As the Braves prepare to enter this season, one of their top concerns centers around Dan Uggla, who is coming off the worst season of his career. If Uggla struggles through the first couple months of this season, Atlanta would at least have to think about benching him in favor of Ramiro Pena or Pastornicky.
Constanza missed a month of Spring Training because of visa issues and ended up recording three hits in just 13 Grapefruit League at-bats. His bid to earn an Opening Day roster spot was hurt by his extended absence and the fact that Jordan Schafer -- his chief competition for the fifth-outfielder's spot -- is out of Minor League options.
Carpenter allowed 14 runs and 15 hits in 9 1/3 innings. The hard-throwing right-hander is still developing his skills as a pitcher. He served as a catcher until the Cardinals converted him into a pitcher in 2008.
Mark Bowman is a reporter for MLB.com. This story was not subject to the approval of Major League Baseball or its clubs.