If Walden is ready, Braves might move 'pen arm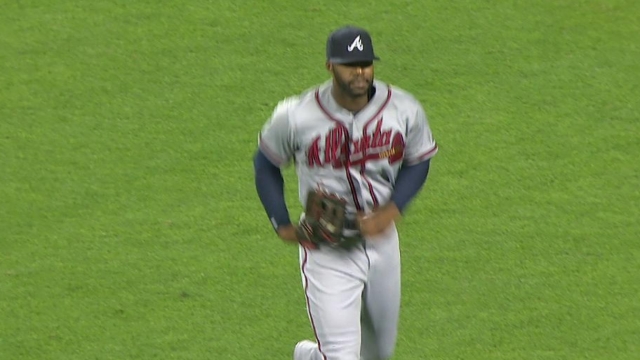 LAKE BUENA VISTA, Fla. -- Despite the fact that Jordan Walden missed a month of the Grapefruit League season because of a bulging disk in his back, Braves manager Fredi Gonzalez has repeatedly said the right-handed reliever could be in his bullpen during Monday's Opening Day game against the Phillies.
If Walden begins the season on the disabled list, Anthony Varvaro and Cristhian Martinez will likely fill the final two available spots in Atlanta's bullpen. But if the Braves are truly confident Walden will be ready for the start of the regular season, then they have plenty of reason to attempt to trade either Varvaro or Martinez by the end of this week.
Because Varvaro and Martinez are both out of options, they would have to pass through waivers before being sent to the Minor League level. Both right-handed relievers would likely be claimed by another club through the process, which does not provide the compensation the Braves would receive via a trade.
Martinez has the advantage of having proven his ability to work multiple innings in various situations while serving as Atlanta's long reliever the past two seasons. But Varvaro has made a strong case for himself while not allowing a run in nine of his 11 spring appearances.
Making his first multi-inning appearance of the year in Monday's 7-4 loss to the Mets, Varvaro worked a scoreless sixth inning and then surrendered two hits and a run in the seventh. He had worked six consecutive scoreless innings since the Tigers scored five runs and seven hits in one inning on March 7.
"[Monday's] outing has no bearing on him making the team, because he has had some pretty good outings," Braves manager Fredi Gonzalez said.
Mark Bowman is a reporter for MLB.com. This story was not subject to the approval of Major League Baseball or its clubs.