Braves assign Terdoslavich, more to Minors camp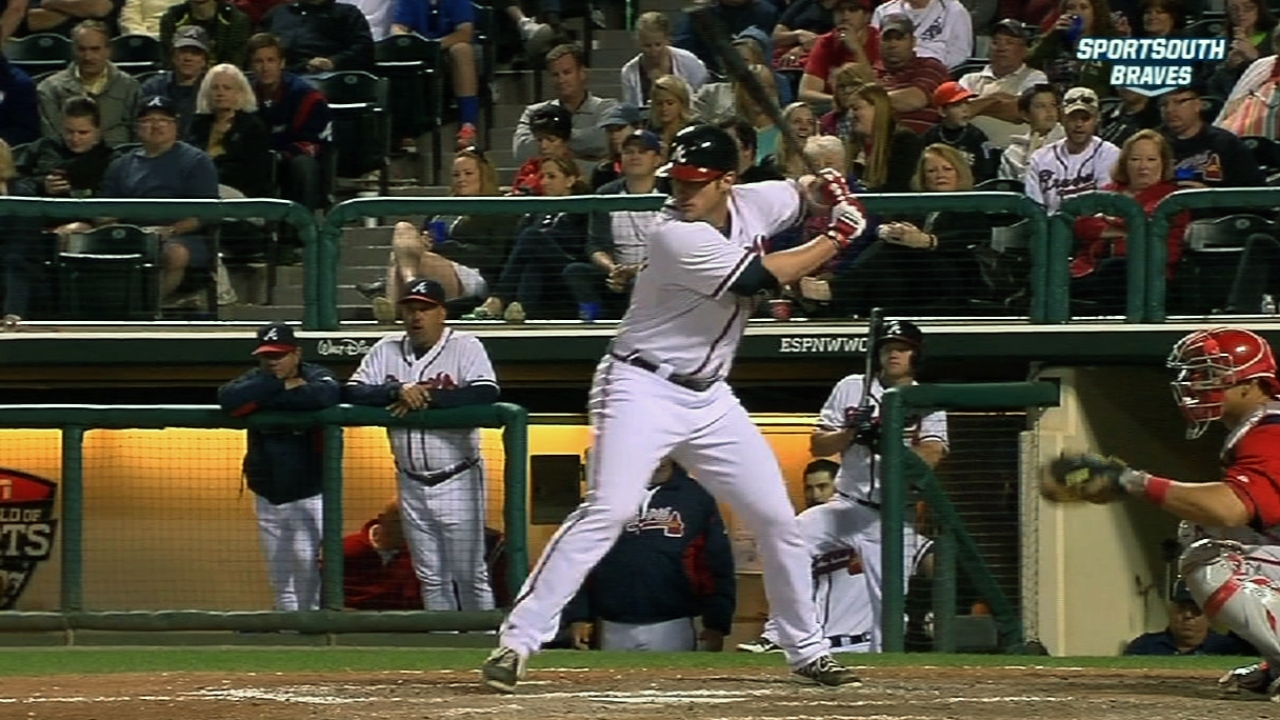 LAKE BUENA VISTA, Fla. -- One year after his defensive struggles killed the possibility of him serving as Chipper Jones' successor at third base, Joey Terdoslavich has made himself into an adequate corner outfielder whose switch-hitting skills could find him on the Braves' bench at some point this year.
Terdoslavich's successful stint during this year's big league camp came to a close when the Braves assigned him, infielder Blake DeWitt and outfielder Jordan Parraz to Minor League camp on Monday morning. Each of these players will likely begin the season with Triple-A Gwinnett.
The only 40-man roster member included in this latest round of cuts was highly regarded catching prospect Christian Bethancourt, who was optioned to Double-A Mississippi.
"I knew it was going to be really, really tough for me to make the team," Terdoslavich said. "Now I've just got to go down, get my at-bats and continue to build on what I started here."
Terdoslavich batted .395 (17-for-43) with four doubles and a home run in 26 Grapefruit League games. More importantly, he showed some of the defensive skills he developed as he spent this winter developing his abilities as an outfielder while working out with his former high school team.
"I told him how impressed I was that he was able to pick up outfield play and also play first base," Braves manager Fredi Gonzalez said. "I was impressed that he was able to do that."
Terdoslavich's days as a third baseman essentially ended when he committed 22 errors in 50 games with Gwinnett during the first two months of the 2012 season. The defensive struggles combined with a .180 batting average led to a demotion to Mississippi, where he primarily played first base and hit .315 with a .852 OPS in 78 games.
"I feel like I'm a lot more prepared for the season," Terdoslavich said. "I know what to expect and I'm really looking forward to it."
Bethancourt is a top candidate to serve as Atlanta's starting catcher after Brian McCann makes his likely exit via free agency this winter. But the strong-armed 21-year-old catcher, who hit .133 in just 15 Grapefruit League at-bats, will first have to develop his suspect offensive skills. He batted .243 with two home runs while playing just 71 games during an injury-plagued season with Mississippi last year.
"It's a short trip from Mississippi to the big leagues," Gonzalez said. "He can catch and throw. I think he can hit. You see improvement as he continues to get bigger and stronger."
Mark Bowman is a reporter for MLB.com. This story was not subject to the approval of Major League Baseball or its clubs.