Windy conditions add to Medlen's recent woes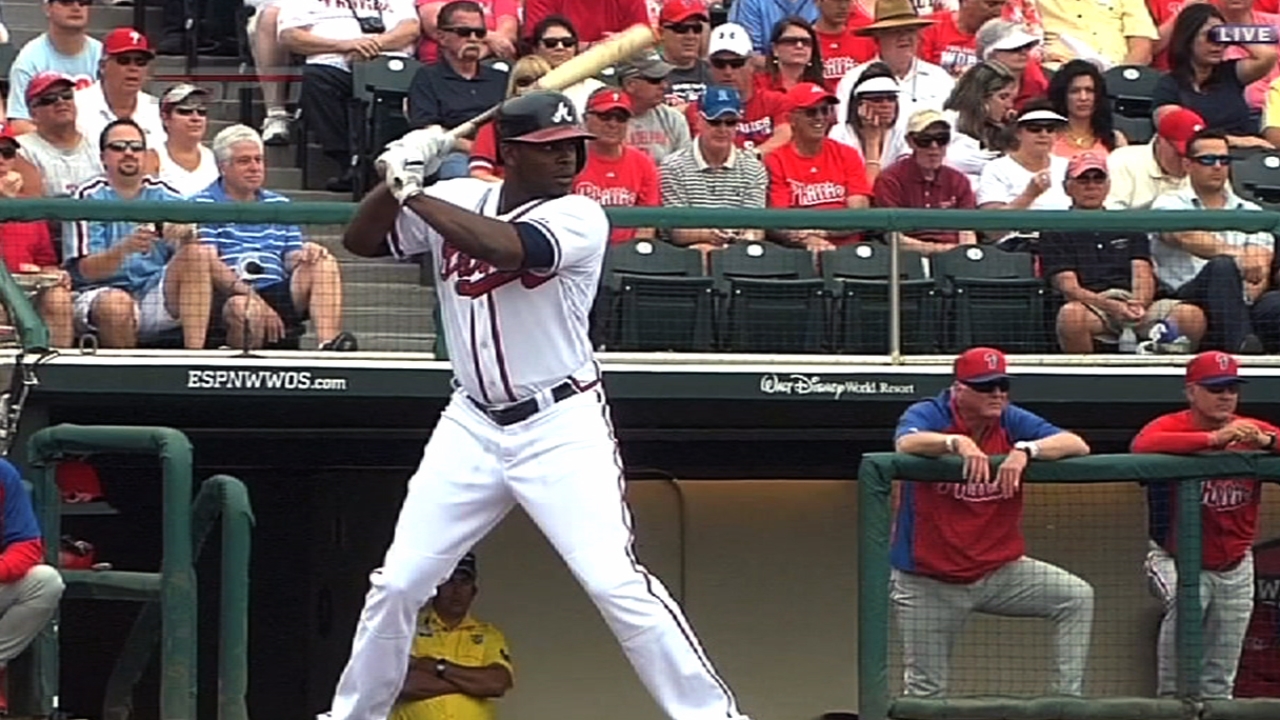 VIERA, Fla. -- Over the course of the past week, Braves right-hander Kris Medlen has surrendered 14 hits in a five-inning stint and battled the strong winds that existed during Sunday afternoon's rain-shortened 9-3 loss to the Nationals.
Count him among the many Major Leaguers who are anxiously anticipating next week's arrival of the regular season.
"You go up in the middle of your delivery, and the first thing in the back of your head is, 'Am I going to fall over?'" Medlen said in reference to Sunday's windy conditions. "Overall, it was just an uncomfortable day. I wouldn't say it was the worst, because I think the last one was probably the worst."
Six days after allowing the Phillies nine runs and 14 hits in five innings, Medlen allowed the Nationals six runs and eight hits in another five-inning outing. These are not the results expected from a pitcher who posted a 0.97 ERA in 13 starts last year. But the 30-mph winds that existed Sunday provided an unwelcome element that will also be unexpected when the regular season begins.
"I gave up nine runs and 14 hits [on Monday], and I felt way more comfortable than I did today," Medlen said. "I felt a couple balls today could have been caught during the regular season."
Medlen's latest frustrating outing began with Denard Span hitting a lazy fly ball that the wind knocked down in front of Jason Heyward in right field. Two innings later, Danny Espinosa hit a two-out line drive that initially seemed destined to land in left fielder Justin Upton's glove shy of the warning track. But the ball carried over the fence for a three-run home run.
"When I needed to make a pitch, I probably did that 50 percent of the time," Medlen said. "I jammed some guys and got some ground balls. A couple snuck through. It's just one of those outings that I'm ready to forget. I'm so ready for the regular season."
Medlen's final regular-season tuneup will come on Friday, when he pitches in a Minor League game at the Braves' Spring Training complex. As he goes through that outing, which will consist of at least four innings, the 27-year-old right-hander will attempt to gain more consistency with his two-seam fastball. It has stayed out over the plate more than he would like during his past two outings.
Just four of the 22 hits Medlen has surrendered in his past 10 innings have been of the extra-base variety. Many of the 18 singles he's allowed during this span have been ground balls that have snuck through the infield.
"You're going to pitches that you normally go to during the year, that you normally make -- and they're just not there yet," Medlen said. "For me, they'll come. I'm not worried or anything. It's something I've done my entire life -- figure out my delivery and figure out my pitches."
Mark Bowman is a reporter for MLB.com. This story was not subject to the approval of Major League Baseball or its clubs.