Braves not ready to anoint Gattis as backup catcher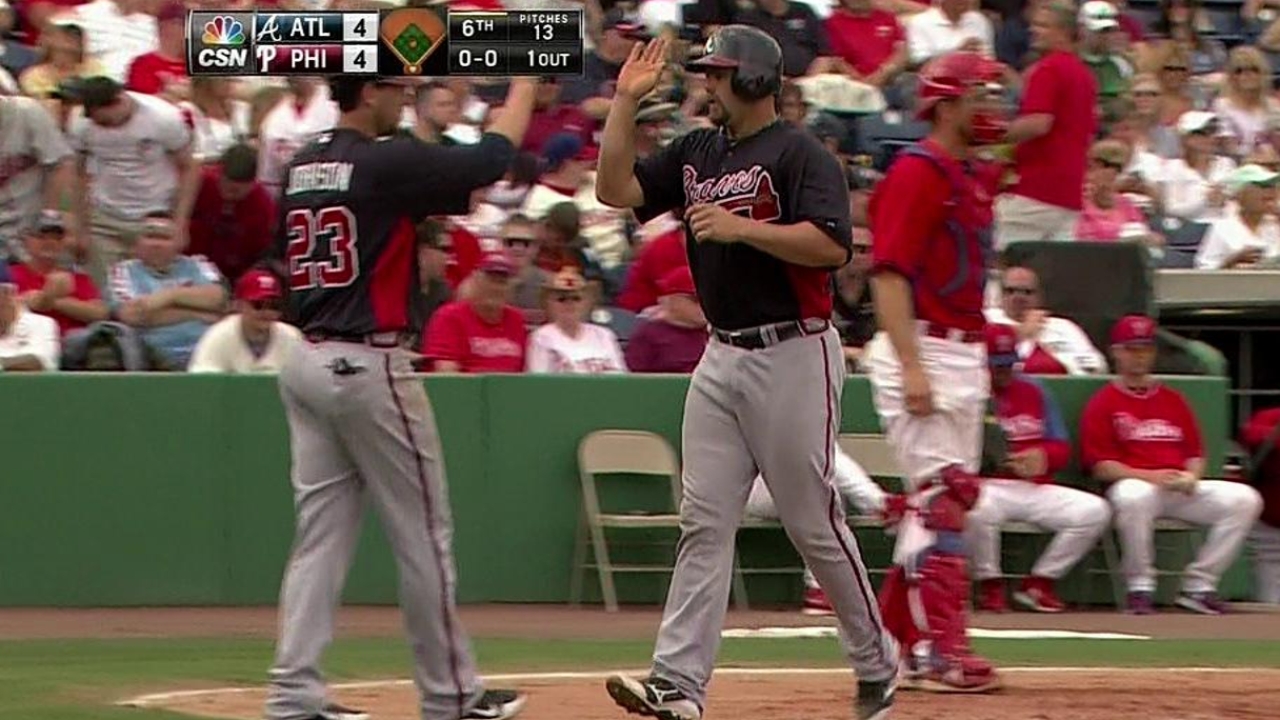 LAKE BUENA VISTA, Fla. -- As Evan Gattis has spent the past few weeks displaying his tremendous potential and proving to be better than serviceable as a catcher, he has seemingly given the Braves no choice but to begin this upcoming season with him as their backup catcher.
But with one week remaining in the spring season, the Braves are not ready to announce Gattis has won his battle with veteran Minor League catcher Matt Pagnozzi to be on the Opening Day roster.
"It's too early," Braves manager Fredi Gonzalez said. "There is still a competition out there. I think Pagnozzi is doing a great job. He deserves an opportunity to be in the competition."
Gattis' second-inning home run in Saturday's win over the Astros was his third in a span of four at-bats dating back to his two-homer performance in Friday's win over the Phillies. The 26-year-old rookie catcher has hit .388 (19-for-49) with five home runs and a .796 slugging percentage in 21 Grapefruit League games.
Pagnozzi has hit .348 (8-for-23) with no home runs and a .478 slugging percentage while getting about half the amount of playing time Gattis has gained during the spring season.
While Pagnozzi is the better defensive option, Gattis has given the Braves confidence that he can handle the catching duties and serve as a significantly better option from the offensive perspective.
If Gattis gets the nod, the Braves could be tempted to get his bat in the lineup on a consistent basis by having him essentially share the catching duties with Gerald Laird until Brian McCann returns from right shoulder surgery. McCann will miss at least the first three weeks of the regular season and possibly all of April.
"I don't think we have any discomfort at all with [Gattis'] catching ability," Braves general manager Frank Wren said. "It's one of those decisions where you want to make sure you're doing what is best for the kid and the organization. You look at those threefold. One, is it going to hinder his development coming along? As an organization, are we hurting an asset long term? For the team, does this help us now?"
Mark Bowman is a reporter for MLB.com. This story was not subject to the approval of Major League Baseball or its clubs.