Expanded repertoire has Teheran thriving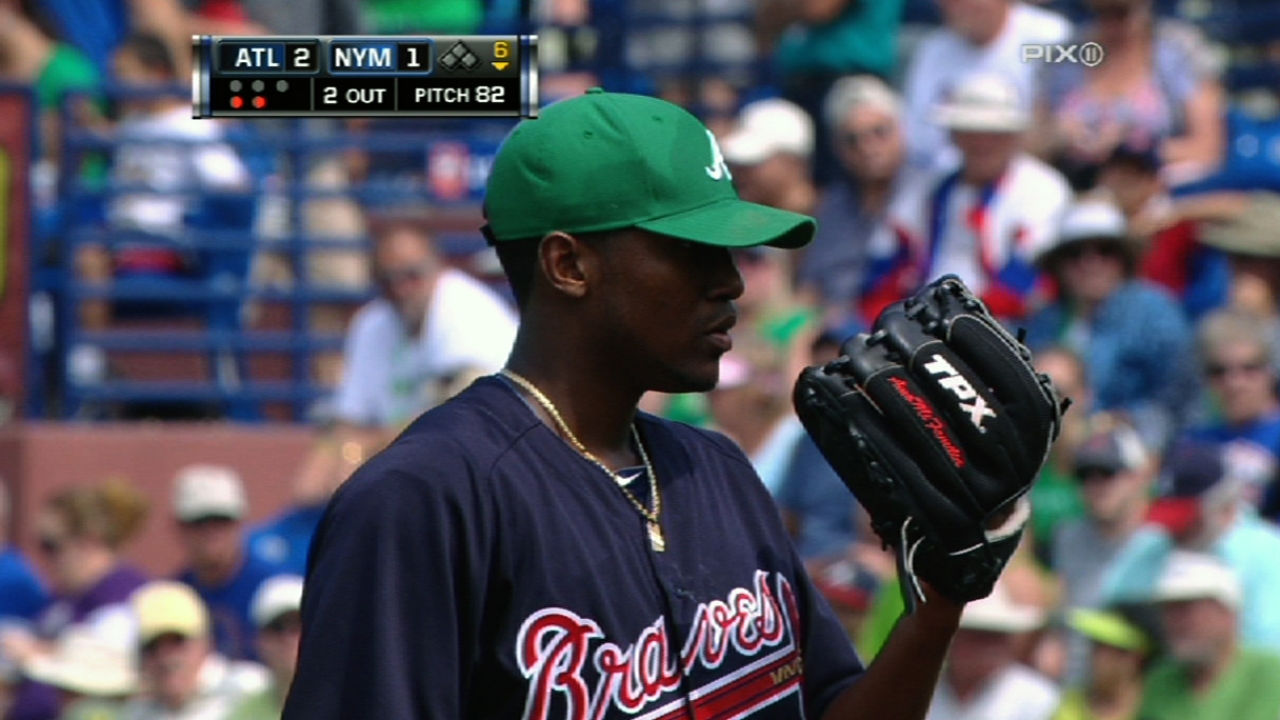 LAKE BUENA VISTA, Fla. -- Braves manager Fredi Gonzalez has not bothered to look at the eye-opening stats Julio Teheran has produced during the Grapefruit League season. He has seen all that he has needed to see as Teheran has spent the past month showing why he was one of baseball's top overall prospects before he compiled a 5.08 ERA in 26 starts for Triple-A Gwinnett last year.
"He's been terrific," Gonzalez said. "He goes out there and mixes his pitches. He's got four quality Major League pitches. A couple of years ago, he had just one and barely one because he couldn't even command the fastball."
Teheran looked liked one of the game's top young pitchers as he recorded 10 strikeouts and held the Astros hitless over six scoreless innings during Saturday afternoon's 3-2 win at Champion Stadium. His strikeout total in this one game matched the number he compiled while surrendering 22 hits and allowing 17 earned runs in 16 1/3 Grapefruit League innings last year.
Teheran's struggles last year were a product of the fact that he was essentially a one-pitch pitcher who routinely attempted to overthrow his four-seam fastball. Feeding off the confidence he gained in the Dominican Winter League, he now complements his heater with a sinking two-seam fastball, a plus changeup and two similar breaking pitches -- a curveball and a slider.
Armed with this expanded repertoire, Teheran has looked entirely different this year. In 26 innings, he has surrendered seven hits, allowed three earned runs, recorded 35 strikeouts and issued nine walks.
"Everything is better and I'm working to get better every day," Teheran said. "I feel more confidence with my two-seamer and my slider. I feel like I can throw all my pitches in any count."
Teheran will make one more start during the spring season and then prepare for his role as Atlanta's fifth starter. He will make his regular-season debut on April 6 or 7, depending on whether Tim Hudson needs an extra day of rest before his second start.
Mark Bowman is a reporter for MLB.com. This story was not subject to the approval of Major League Baseball or its clubs.