Laird preparing to fill McCann's spot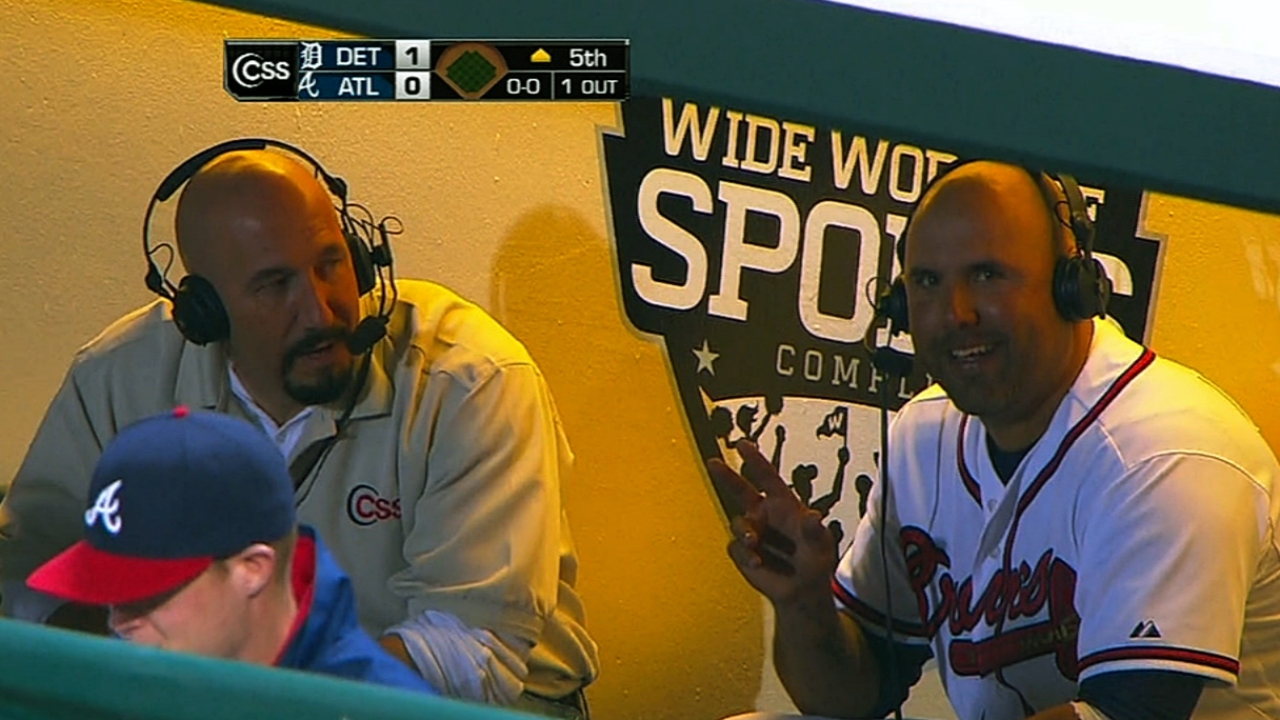 LAKE BUENA VISTA, Fla. -- With Brian McCann recovering from right shoulder surgery and facing the possibility of missing at least a significant portion of the regular season's first month, the Braves have allowed Gerald Laird to ease his way back from the slight left calf strain he sustained March 2.
Laird has played just six games and compiled 14 plate appearances since sustaining the strain while approaching second base during a game against the Astros at Osceola County Stadium. Still, with the regular season quickly approaching, the veteran catcher believes he has enough time to make the necessary preparations to serve as the Braves' starting catcher on Opening Day.
"I just want to be ready to play," Laird said. "I don't want any lingering issues. I want to make sure I'm ready to go."
McCann's rehab process has proved to be every bit as challenging as he envisioned after he had surgery Oct. 16. His surgically repaired right shoulder has provided less discomfort over the past few days, and he has had few problems while swinging the bat. But McCann's throwing program is still limited to sets of long-toss exercises from a distance of 120 feet. He has not reached the point where he will be cleared to begin exerting himself with aggressive throws to second base.
While McCann has said he would like to be in Atlanta's lineup by April 16, that goal is starting to look unrealistic. In fact, it is starting to seem like he will not be cleared to play in Minor League rehab games before then. This creates the likelihood that he will not return to Atlanta's lineup before the latter portion of April.
As McCann continues to recover, Laird will serve as the primary catcher, and either Evan Gattis or Matt Pagnozzi will serve as his backup. If Gattis gets the nod, the Braves might be tempted to maximize the value of his bat by putting him in the lineup in two out of every five games.
Whatever the case, Laird will serve as the primary catcher while McCann is sidelined.
Laird has recorded just two hits in the 20 at-bats he has compiled during the spring season. But the 33-year-old veteran is confident he can get his swing where it needs to be by playing in a few more Grapefruit League games and compiling at-bats in a couple Minor League games over the next week. He totaled 33 at-bats during the Grapefruit League season the past two seasons.
Though his workload has been restricted by the calf strain, Laird has caught seven innings in two games over the past couple of weeks and familiarized himself with the pitchers while catching their bullpen sessions.
"I feel good back behind the plate," Laird said. "I'm going to get a few more at-bats and give it a go. I don't want to waste any hits down here."
Mark Bowman is a reporter for MLB.com. This story was not subject to the approval of Major League Baseball or its clubs.