Venters hoping to avoid another slow start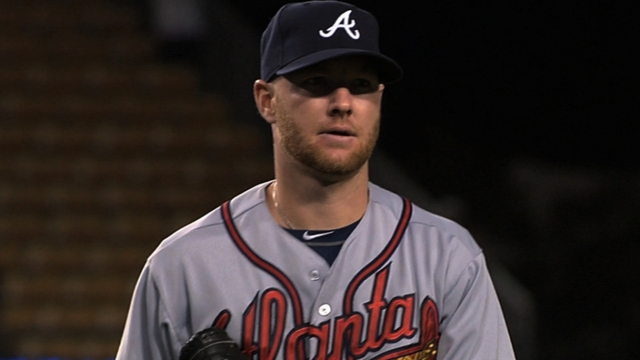 LAKE BUENA VISTA, Fla. -- Jonny Venters vividly remembers the frustration he felt while battling fatigue and discomfort during the first three months of last season. Hoping to avoid a repeat, the Braves opted to give him more than a week to rest after he issued four walks in a one-inning appearance against the Marlins on March 13.
Venters felt refreshed when he returned to the mound to complete bullpen sessions Wednesday and Thursday. The left-handed reliever is scheduled to return to action Saturday with a one-inning appearance in the split-squad game against the Astros at Champion Stadium.
"I wasn't very sharp in that last one, so we just backed off a little bit," Venters said Friday. "The ball was coming out real good the past couple of days. I think it was a good move."
Venters has made 230 appearances since he made his Major League debut on April 17, 2010. The only pitcher with more appearances since the start of the 2010 season is Cincinnati's Sean Marshall with 231.
The heavy workload seemed to take its toll on Venters as he compiled a 4.45 ERA, surrendered six home runs and allowed opponents to compile a .412 on-base percentage in his first 40 appearances last year. In the 164 appearances he made during the 2010 and '11 seasons, he posted a 1.89 ERA, surrendered three home runs and held opponents to a .300 on-base percentage.
Venters turned things around after spending two weeks on the disabled list with a left elbow impingement in July. He compiled a 1.71 ERA, did not allow a home run and limited opponents to a .292 on-base percentage in his final 26 appearances last year.
Mark Bowman is a reporter for MLB.com. This story was not subject to the approval of Major League Baseball or its clubs.