Teheran takes another step toward rotation spot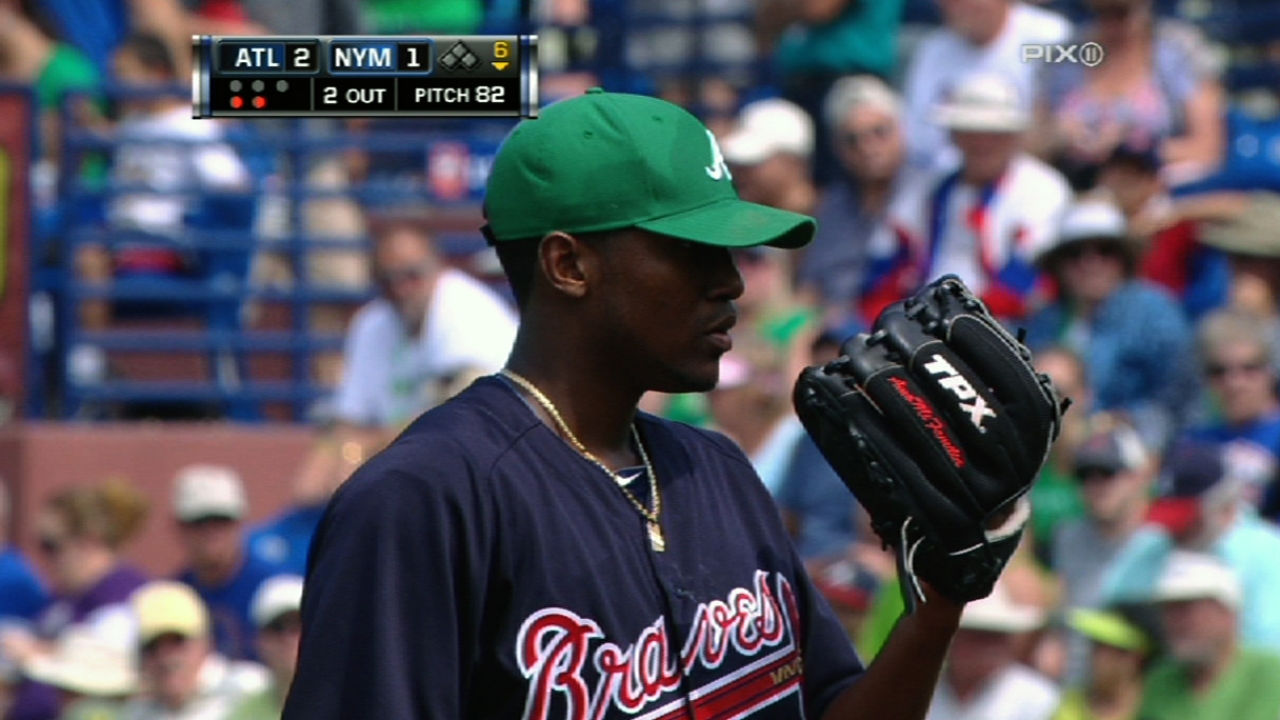 PORT ST. LUCIE, Fla. -- Julio Teheran took another step forward Sunday afternoon in his quest to earn the fifth spot in the Braves' starting rotation.
The right-hander recovered from a rocky start to go six complete innings, giving up only one run on three hits to pick up his second win in three decisions this spring. He registered seven strikeouts and issued two walks during his 83-pitch outing that included 56 pitches for strikes and 27 for balls in the Braves' 2-1 win against the Mets.
Teheran, making his fifth Grapefruit League start, gave up a home run to the first batter he faced Sunday, a long drive over the right-field fence at Tradition Field by the Mets' Jordany Valdespin. The next batter, Collin Cowgill, took Teheran deep to left but Braves left-fielder Jose Constanza caught it at the wall for the first out. Then Ike Davis doubled sharply to the gap in right-center, but Teheran pitched out of the inning without any further damage and gave up only one more hit the remainder of his outing.
"He settled down and did a nice job," Braves manager Fredi Gonzalez said of Teheran. "He's going to have those situations during the course of the season, but he's going to have to learn from that. He's been really impressive the way he's been handling himself. I think [catcher] Gerald Laird has helped him tremendously."
Laird said he's seen vast improvement in Teheran's approach this season compared to last year.
"He's come a long way," Laird said. "I think the pitch that's really kind of put him over the edge is that two-seamer he's learned to locate. If he can establish a pitch like that with velocity, he's going to get a lot of ground balls. He's doing a really good job. It's all him. He's worked really hard and taking his bullpens really serious. He's shown a lot of maturity this camp. He showed that today. You like to see a guy kind of give up something and see how he responds, and he did a good job of that today. He's got some confidence out there."
Sunday's performance gives Teheran an ERA of 1.35, and Gonzalez said the right-hander will have at least two more starts before the team breaks camp. Teheran said he's not putting as much pressure on himself this season.
"I've been pitching, not throwing [like last year]. That's the difference," Teheran said.
Has he done enough to earn the fifth starting spot? He hopes so.
"I'm waiting on them to tell me," Teheran said, smiling. "I'm excited."
Steve Dorsey is a contributor to MLB.com. This story was not subject to the approval of Major League Baseball or its clubs.