Terdoslavich showing Braves he can play outfield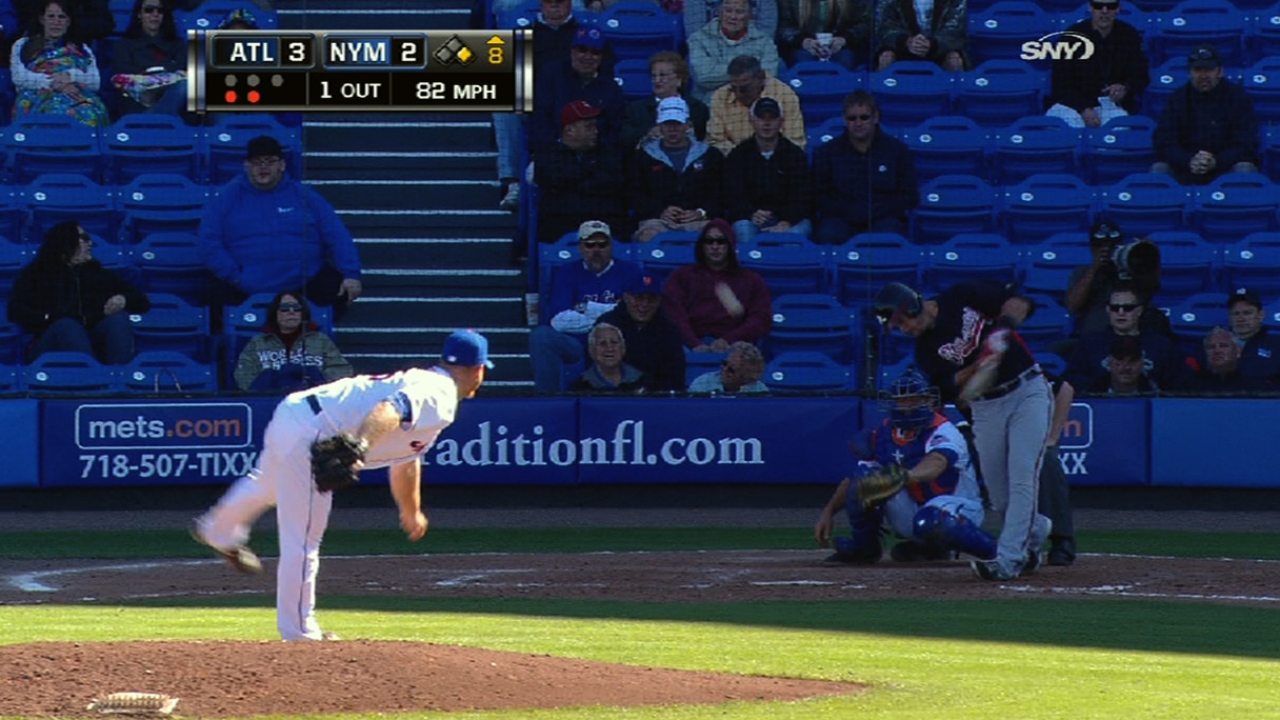 LAKE BUENA VISTA, Fla. -- Joey Terdoslavich's days as the future third baseman in Atlanta ended during his ugly two-month stint with Triple-A Gwinnett at the start of last season. But while spending the past couple weeks showing his offensive potential and ability to play both corner-outfield positions, Terdoslavich has positioned himself to get a call to the Major League level this year.
"He's better than OK," Braves manager Fredi Gonzalez said of Terdoslavich as an outfielder. "He looks pretty good out there."
Terdoslavich, the Braves' No. 15 overall prospect, has gained attention while batting .400 (14-for-35) with three doubles and a home run since the start of the exhibition season. But the likelihood that he could get a call to Atlanta this year has come from the fact that he has given the Braves confidence that he could play either corner-outfield position or first base when necessary.
"Whatever happens, happens, I'm just excited for this season wherever I am," Terdoslavich said. "I'm just going to take advantage wherever I go. I just have to make sure I'm ready."
The Braves opted to have Terdoslavich skip Double-A and begin last season as Gwinnett's starting third baseman. After hitting .180 and committing 22 errors in 53 games, he was demoted to Mississippi, where he batted .315 in 78 games and was used almost exclusively at first base.
Terdoslavich believes his offensive struggles with Gwinnett were essentially a product of a hitch in his swing from both sides of the plate. He does not buy into the theory that he was rushed to the Triple-A level.
"They thought it was the right decision," Terdoslavich said. "Maybe it was and maybe it wasn't. I thought I was ready. If I didn't have that hitch, who knows what would have happened."
Recognizing the need to add to his versatility by playing the outfield, Terdoslavich spent this winter working out with his high school team. He said he told his former coach to "treat me like a sophomore trying to make varsity."
"Everything I did this offseason is showing up," Terdoslavich said.
Terdoslavich will likely begin this season as an outfielder with Gwinnett. But he has at least positioned himself for consideration to continue battling with Jordan Schafer and Jose Constanza to begin the year as Atlanta's fifth outfielder.
Mark Bowman is a reporter for MLB.com. This story was not subject to the approval of Major League Baseball or its clubs.