Late arrival Constanza may not make roster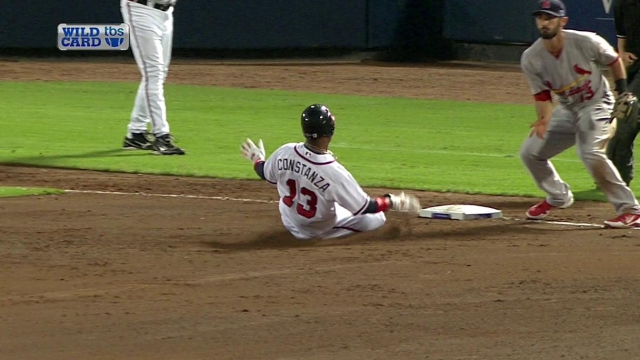 LAKE BUENA VISTA, Fla. -- Jose Constanza arrived in camp on Friday, exactly one month after the club staged its first full-squad workout. Because there are just two more weeks of Spring Training, there is reason to doubt the speedy outfielder's ability to gain an Opening Day roster spot.
"I can only control playing hard and doing well," Constanza said, with bullpen coach Eddie Perez interpreting. "I can't control the other stuff."
Delayed by the stricter policies put in place this year, Constanza last week finally received his visa, and this week was permitted to leave his native Dominican Republic. Through Perez, he explained that his name was one of the last ones on the list of Dominican players who requested visas.
Manager Fredi Gonzalez would not rule out the possibility of Constanza winning the battle with Jordan Schafer to begin the season as the fifth outfielder, but the current favorite is Schafer, who is out of Minor League options.
Because Constanza has options, the Braves could send him to Triple-A Gwinnett without him having to pass through waivers. Schafer would likely be claimed by an outfield-hungry team, such as the Mets.
"We know [Constanza]," Gonzalez said. "It's not like we've never seen him or laid eyes on him. We know him and know what he can do. We'll get him some at-bats. I don't think he's ready to play nine innings out of the chute. I think the history helps him."
Constanza has batted .281 with a .332 on-base percentage in 79 games with the Braves over the past two seasons. Although he is considered to be a more consistent hitter than Schafer, he is the lesser defensive option.
After playing in the Dominican Winter League and the Caribbean World Series, which concluded in early February, Constanza spent the past month working with a personal trainer and personal coach in Santo Domingo.
Mark Bowman is a reporter for MLB.com. This story was not subject to the approval of Major League Baseball or its clubs.