Medlen downplays being hit by second liner
Braves hurler expects to make next start despite leaving early after comebacker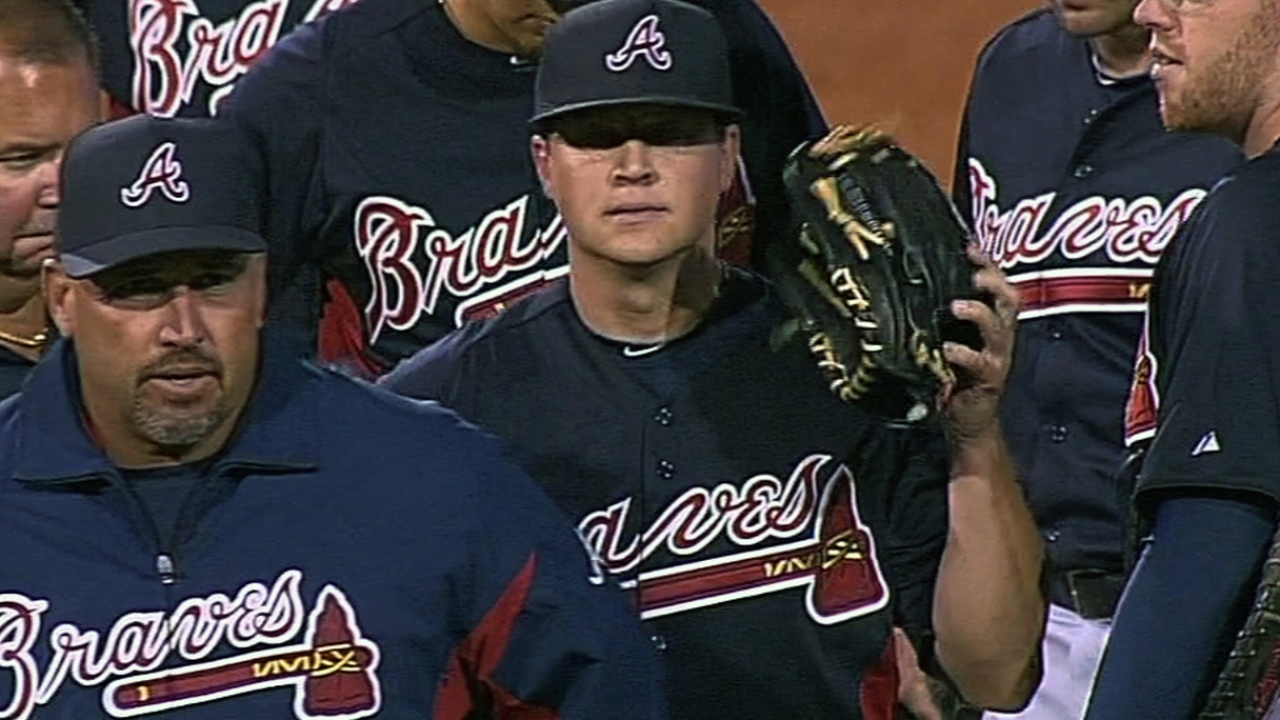 JUPITER, Fla. -- Braves starter Kris Medlen left Wednesday's 2-1 win over the Marlins after being hit in the right arm by a line drive. It was the second time in the game that Medlen was hit by a batted ball. He and manager Fredi Gonzalez both downplayed the contact, and Medlen believes he can make his next scheduled start.
With two outs in the fifth inning, Casey Kotchman hit a ball up the middle that struck Medlen on the back his pitching arm, near the triceps. He immediately left the game, though he remained in the dugout until the inning was over before heading to the visiting clubhouse at Roger Dean Stadium. Jonny Venters took over for Medlen, getting Chris Valaika to ground out to end the inning.
"I feel fine," Medlen said in the clubhouse. "It started to tighten up a little bit after I iced it the first time. ... It's tightening up a tad bit, but I don't expect any changes in scheduling or anything like that."
Medlen had been breezing before his last batter, allowing two singles over 4 2/3 shutout innings. The only two base hits both hit him, with Rob Brantly singling on a ball that struck his left foot in the fourth.
He would have left the game at the end of the fifth inning regardless, so the comebacker shortened Medlen's outing by only a little bit.
"He had one more out, so there was no sense messing around," Gonzalez said. "He was really sharp. I think we dodged a bullet there."
Matthew Leach is a writer for MLB.com. Read his blog, Obviously, You're Not a Golfer and follow him on Twitter at @MatthewHLeach. This story was not subject to the approval of Major League Baseball or its clubs.