Medlen admits to butterflies under calm exterior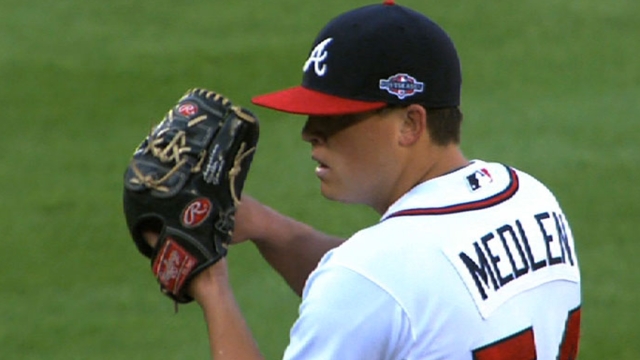 LAKE BUENA VISTA, Fla. -- Kris Medlen has never understood why he has been described as a fun-loving, unflappable individual who is never unnerved by any situation.
"Everyone is like, 'Kris walks around and he is all relaxed,'" Medlen said. "I'm like, 'No, I think I'm just deflecting how nervous I am by sitting and talking to whoever and about whatever else.'"
Medlen captured the attention of the baseball world when he went 9-0 with a 0.97 ERA in the 12 starts he made after moving from the bullpen to the rotation last year. That stands as the lowest ERA produced by any Major League pitcher with at least 12 starts in a season.
Still, he admits that before he made his Grapefruit League debut in Monday's 7-6 win over the Marlins, he was battling some nerves. He responded by extending his therapeutic practice of eating a peanut butter-and-honey sandwich before the game.
"First time every spring, you just get the nerves, because baseball is back," Medlen said. "You've thrown bullpens and live BPs, but it's not really the same."
Making his first appearance since taking the loss in last year's one-game Wild Card playoff, against the Cardinals, Medlen surrendered a pair of first-inning singles and then did not allow another hit in his two scoreless innings. He recorded a pair of strikeouts and threw 19 of his 31 pitches for strikes.
"I felt pretty good," he said. "I didn't throw many changeups. I threw more curveballs and fastballs more than anything. That's all I really focus on this early."
Chris Coghlan began the game by hitting a 2-0 fastball to right field for a single. Joe Mahoney added an infield single before Medlen escaped the first inning unscathed. Dan Uggla's inability to field Adeiny Hechavarria's grounder served as the second inning's only blemish.
If the Braves keep their projected starters on a strict schedule of pitching once every five days through the end of March, Medlen would be lined up to make the April 1 Opening Day start, against the Phillies. But he believes the honor should go to the veteran Tim Hudson.
"I haven't even done the math on that," he said. "I'm just going out there getting my job done and just trying to execute my pitches. I'm not worried about that at all. I said a couple of times that Huddy deserves it. He's our leader, and he's our guy."
Mark Bowman is a reporter for MLB.com. This story was not subject to the approval of Major League Baseball or its clubs.