McGuirk: 'Real sense of purpose' for 2013 Braves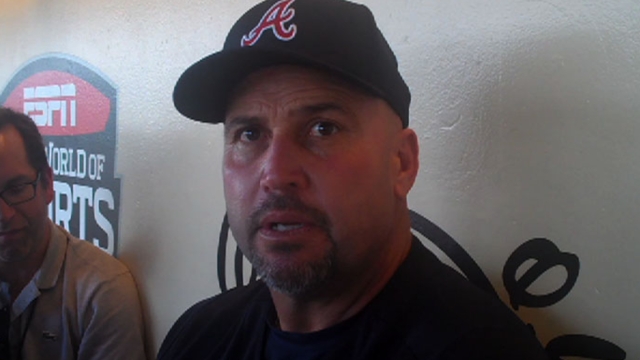 LAKE BUENA VISTA, Fla. -- Still feeding off the excitement of an eventful Hot Stove season, Braves chairman and CEO Terry McGuirk displayed both excitement and anticipation when he arrived at his team's Spring Training complex on Thursday afternoon.
"You feel it as a fan. You feel it as an official of the team, and you feel it from the players themselves," McGuirk said. "Talking to some of the leaders of our team, they just have a real sense of purpose knowing what we put together here. It's palpable. I think you have to be very uninformed about our team not to feel it."
Most of the excitement surrounding the Braves centers around the offseason additions of the two Upton brothers. B.J. Upton signed a franchise-record five-year, $75.25 million contract in November. His brother Justin Upton was acquired in a seven-player trade with the D-backs last month.
The Braves are confident that these moves have positioned them to be a legitimate World Series contender each of the next few seasons.
"We're not done," McGuirk said. "We're all about improving this team every step of the way and every chance that we can. We intend to be at this level for a long time.
"Money is not going to stand between us and getting it done at this point because we are that close. I'm talking about [the] long term and short term. I'm talking about talent that is here and talent that isn't here. When we are this close, we are going to try to push it over the top. But there is a lot of talent here."
The Braves could use a portion of the $10-12 million they have remaining to spend this year on any needs that could arise between now and the Trade Deadline. But they will likely first attempt to use some of the funds to lock up some of their young talent.
The Braves are expected to attempt to buy out some of the arbitration years remaining for their prized right fielder Jason Heyward, who will make $3.65 million as a first-year arbitration-eligible player this year. His salary for this season could increase slightly if he agrees to a contract that would provide him insurance, and provide the team certainty beyond 2015 -- his final arbitration-eligible season.
As of Thursday, the Braves had not yet approached Heyward about the possibility of a multi-year contract.
There is also a chance the Braves could attempt to buy out some of the arbitration years coming to Freddie Freeman and Craig Kimbrel, who will become arbitration-eligible after this upcoming season. But Heyward seems to be the most likely to first receive this kind of offer.
Mark Bowman is a reporter for MLB.com. This story was not subject to the approval of Major League Baseball or its clubs.