Inbox: Will Kemp be moved for Acuna in '18?
Beat reporter Mark Bowman answers questions from fans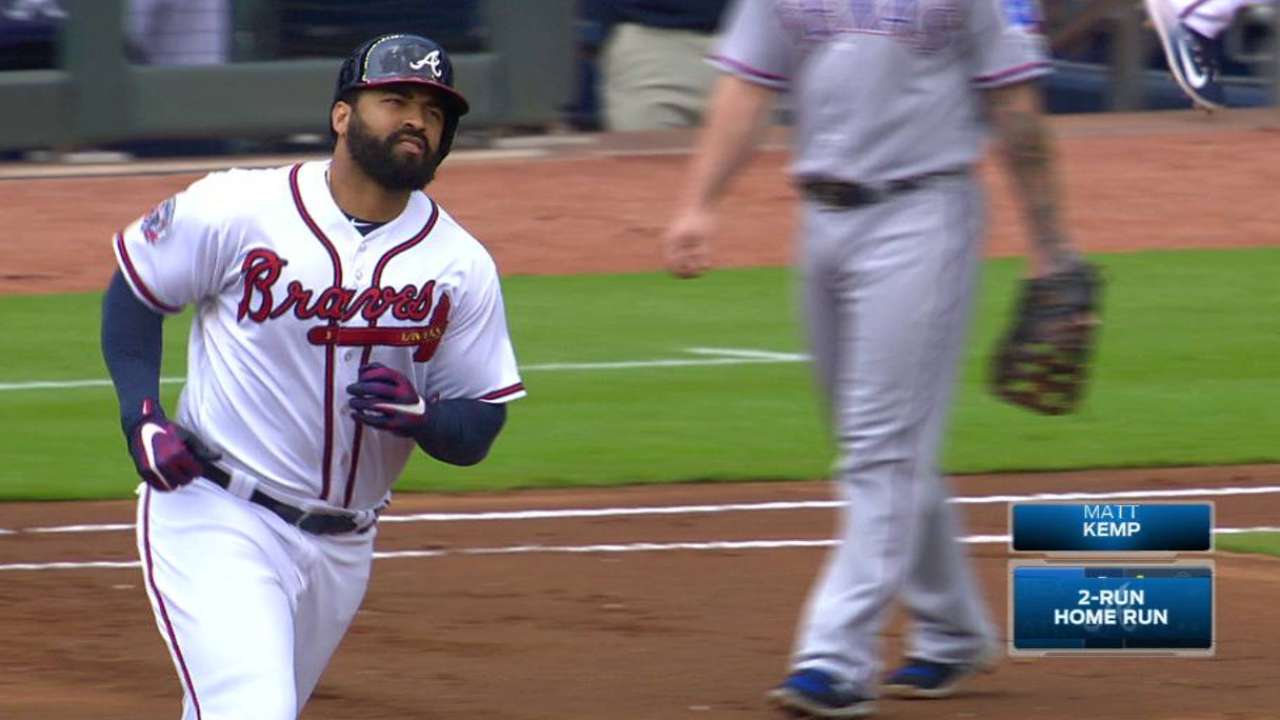 Who do you think is more likely to be moved to make room for Ronald Acuna?
-- @TheBDanAbstract
Though there could be some long-term financial or "controllable" benefits to waiting until May or June, let's just assume Acuna will essentially force the Braves to place him on their Opening Day roster. Whose spot in the lineup he takes will be determined as general manager John Coppolella spends this offseason tackling the challenge of attempting to trade one of his veteran corner outfielders -- Nick Markakis or Matt Kemp.
Though Markakis is the clubhouse leader, who is beloved by teammates and coaches, it will be much easier to move the $11 million he is owed over the final year of his contract than it would be to convince a team to commit to paying Kemp $36 million over the course of the next two seasons.
• Submit a question to the Braves inbox
If it plays out as expected, there is a chance the Braves won't feel like they were "stuck" with keeping Kemp. Before this season's multiple hamstring ailments adversely affected the svelte frame he brought to Spring Training, the veteran outfielder showed he can still be among the game's most productive outfielders from an offensive perspective.
From Aug. 2, 2016 (his Braves debut) through June 14 (when he suffered his second hamstring strain of this season), Kemp hit .305 with an .889 OPS. The only NL outfielders who compiled at least 450 plate appearances and produced a better OPS within this span were Charlie Blackmon (1.029) and Bryce Harper (.933).
Time will tell whether Kemp regains the encouraging form he had at the beginning of this year. But for now, it seems safe to assume he'll be the one kept to fill a lineup spot with Acuna next year.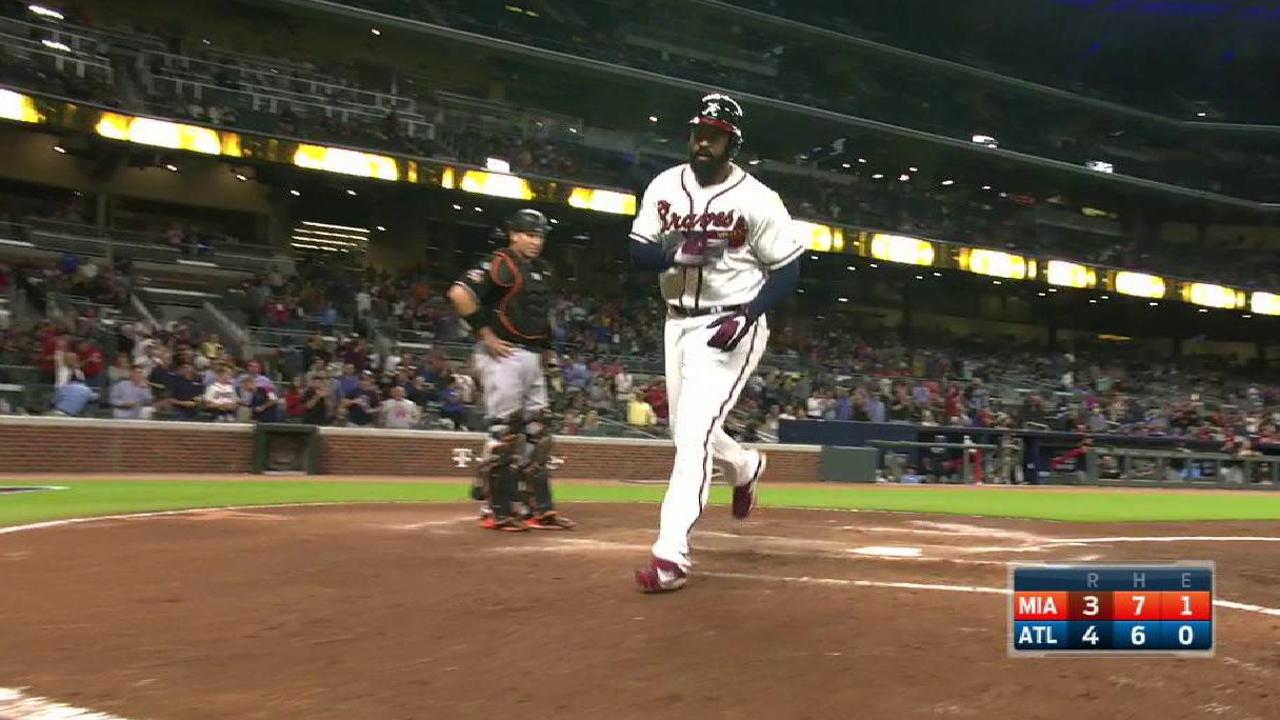 Any chance a managerial change is made this offseason?
-- @KevinBr75946838
It's far from a certainty Brian Snitker will return as Atlanta's manager next year and we might not know his fate even when the regular season concludes. The Braves can wait until five days after the conclusion of the World Series to decide whether to exercise Snitker's option for the 2018 season.
One variable in this decision will be the future of Braves president of baseball operations John Hart, whose current contract expires at the end of this season. There has long been speculation that Royals general manager Dayton Moore could return to Atlanta next year in some capacity. But given the amount of input Hart has had on the recent front office restructuring, it seems he is committed to returning.
So, as John Schuerholz moves closer to assuming more of a fully-retired lifestyle, the decision will likely be made by Hart and Coppolella. The club chose Snitker over Ron Washington and Bud Black last winter. If a change is made this year, Washington would be the favorite to get the job.
While the current Braves have come to appreciate Washington's enthusiasm and passion, there is a strong portion of that clubhouse that would also object to the club parting ways with Snitker. Freddie Freeman and Markakis are two of the strongest voices within that clubhouse and both are among the many Braves who have made it clear they love playing for Snitker. Some of the club's most highly-regarded former players have also already started campaigning for Snitker to stay.
There would certainly be some internal backlash if a change is made. But given the responsibilities he has assumed this year and throughout his 40-plus-year tenure with the club, Snitker will still have an upper-level role within the organization even if he doesn't return as the big league manager.
Does it look like the Braves will exercise R.A. Dickey's option? If so, why? It's cheap for his production but shouldn't we give a young guy a shot?
-- @matt_minsk
The last couple weeks of the season will prove influential, but for now, it seems like the Braves are leaning toward exercising the $8 million option in Dickey's contract. Yeah, the knuckleballer has struggled in four of his past five starts. But the 42-year-old veteran has also completed at least five innings in 26 of his 28 starts and allowed three earned runs or fewer 18 times.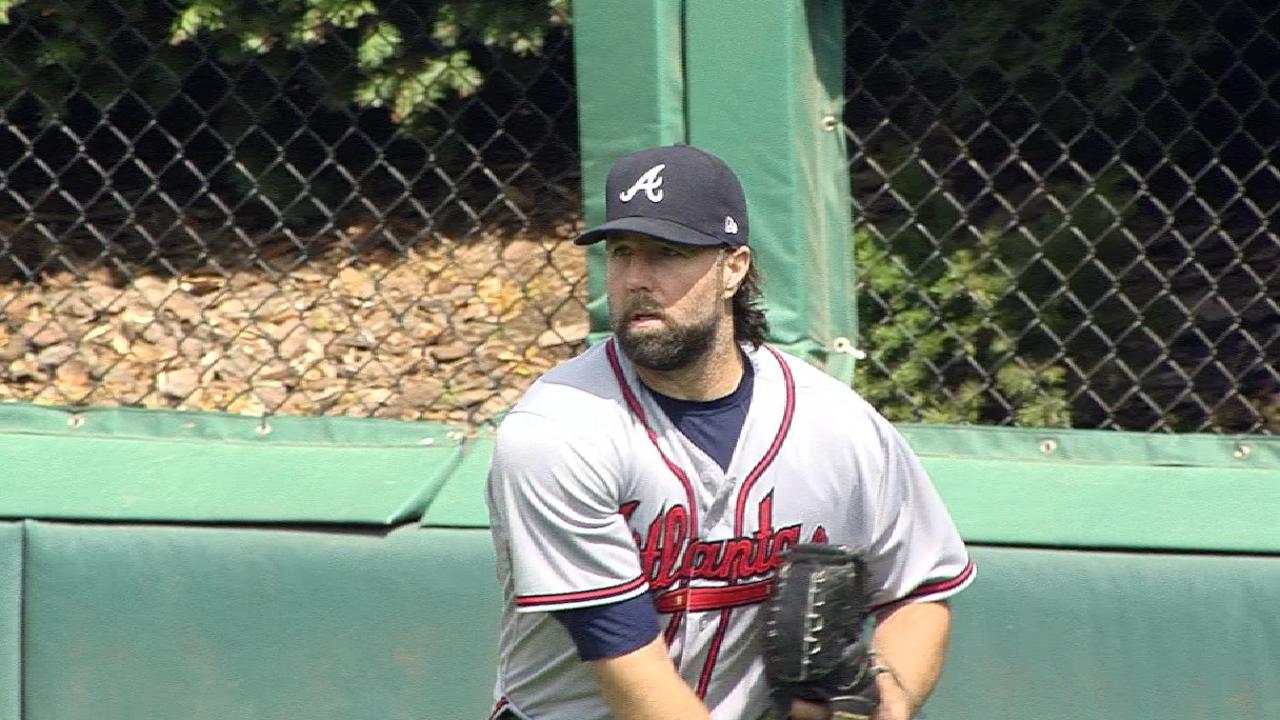 If the Braves do not end up making a significant trade to acquire a legit frontline starter, it might make more sense to stick with the familiarity Dickey brings rather than give a multi-year deal to another middle-of-the-rotation free agent just to add some experience to the rotation.
You don't necessarily wanting Dickey to block Mike Soroka, Kolby Allard, Max Fried, Luiz Gohara, Lucas Sims or any of the other prospects who could make their way to Atlanta next year. But you want his leadership and experience present to provide them direction once they arrive. And his presence could also serve as a short-term bridge that might allow some of these young hurlers to maximize their development before being brought to the Majors.
What is the purpose of allowing people like Rex Brothers and Ian Krol to pitch out of the bullpen, while Jason Hursh and Akeel Morris weren't brought up for September?
-- @tarheelbrave88
Morris has garnered some love on social media as Braves fans have increasingly become more frustrated while watching many of the Braves veteran relievers continue to struggle in September. Instead of giving innings to some up-and-comers, the club chose to spend this final month giving some of these experienced relievers a chance to either get healthy or possibly enjoy a successful streak that might create some offseason trade value.
Even as Brothers has experienced his share of clunkers, his stuff has been encouraging enough for the Braves to view him as potential future asset as he further distances himself from the shoulder ailments that previously plagued him. Morris could also factor into next year's plans, but for now he is just one of the many young players who might be further motivated by not getting a September promotion.
Mark Bowman has covered the Braves for MLB.com since 2001. This story was not subject to the approval of Major League Baseball or its clubs.