Kemp to DL with right hamstring strain
Utility man Rodriguez could be set for increased playing time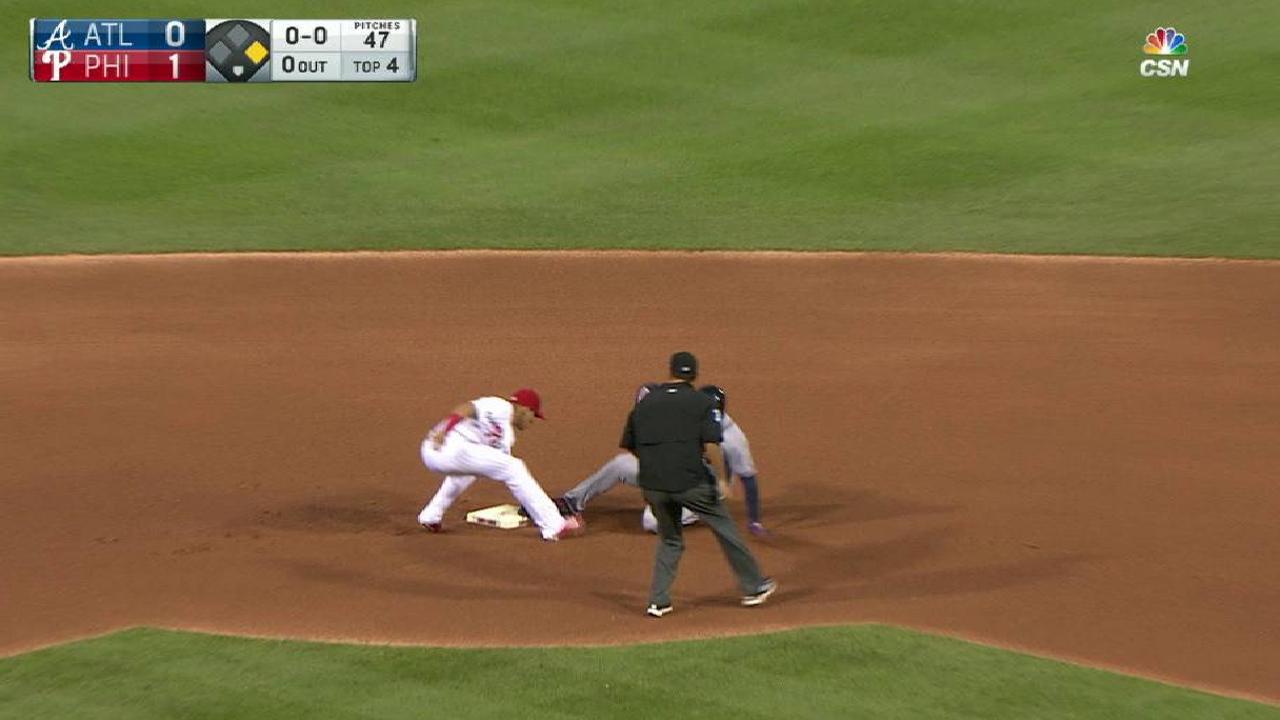 PHILADELPHIA -- Braves outfielder Matt Kemp is no stranger to hamstring injuries. His latest has him heading to the disabled list.
On Friday night in Philadelphia, Kemp injured his right hamstring during the Braves' 10-3 loss to the Phillies. On Saturday afternoon, the club placed placed him on the 10-day DL, recalling outfielder Lane Adams from Triple-A Gwinnett in a corresponding move.
"I got hurt, man. It's frustrating when you get hurt," Kemp said Friday. "That's pretty much it."
Kemp felt pain in his hamstring as he rounded first base as he tried to leg out a fourth-inning double. He had laced a Jake Thompson offering high off the wall in left field but had to limp to second, sliding in an attempt to avoid the tag from Cesar Hernandez.
He was visibly frustrated after being thrown out. That, however, was more thanks to a recurrence of the type of lower body injury that has plagued him both throughout his career and the current season.
"It may take 10 days, it may take longer," Braves manager Brian Snitker said Saturday. "We'll play it by ear."
Just four games into the 2017 season, Kemp missed two weeks with a left hamstring injury. In June, he missed three games with left hamstring soreness. His hamstring troubles go back to the '12 and '13 seasons, when he also missed time, including two months in '12.
The Braves have options to fill Kemp's vacant outfield spot, one being utility man Sean Rodriguez, who homered as a pinch-hitter in Friday's loss.
"It's a good opprotunity for Sean to get back in there," Snitker said. "I kind of feel like he's getting his timing back, having some really good at-bats, so it's good to give him an opportunity to play a little bit. There's a guy that had 18 homers last year in limited time, and he's shown his power."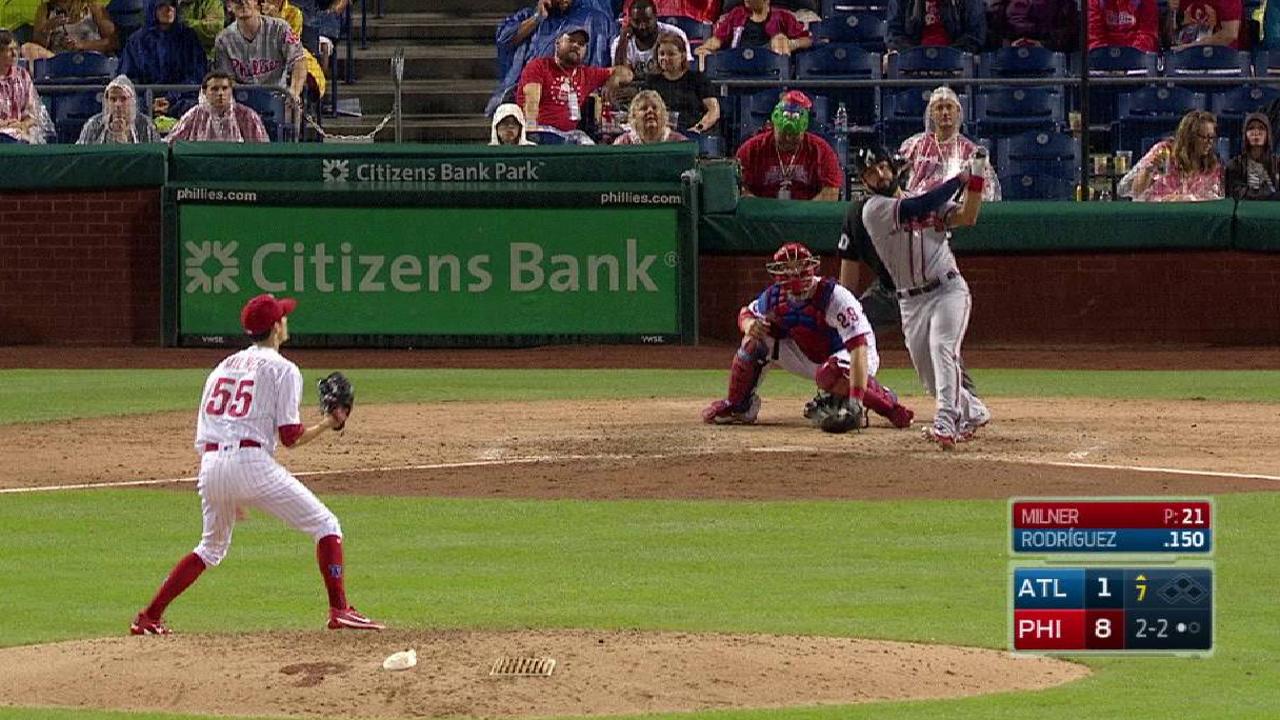 Rodriguez was expected to miss much or all of the 2017 season after offseason shoulder surgery following a car accident in Miami when the car he and his family were driving was hit at an intersection by a man driving a stolen police car.
"He's behind, but seeing his at-bats getting better and better and getting his timing. It's a good opportunity for him," Snitker said.
Rodriguez had a shot at the starting second base job in his first season with the Braves, but his freak accident derailed that chance and Atlanta subsequently traded for Brandon Phillips.
"I always bring -- as Joe Maddon said back in the day one time -- my whole toolbox," Rodriguez said of his former manager in Tampa Bay. "Bring your whole toolbox everyday and see which tool you have to use that day."
Rodriguez has played in 10 games since his return on July 17, starting five and entering five as a pinch-hitter or defensive replacement.
"From Chicgao to L.A., we saw a few lefties, so I was able to get out there and actually play more," Rodriguez said. "We'll see how they want to match things up. If it's Matt going down and me getting to play, then yeah definitely, let's do it."
Rodriguez, a righty, has a career OPS against left-handers over 100 points higher than against right-handers.
"We still have Danny [Santana] and we got Lane back, who did a good job here and brings a lot to the club with his skill set, so we're covered," Snitker said. "You hate losing your clean-up hitter, obviously, but I think we have guys that can fill in."
Ben Harris is a reporter for MLB.com based in Philadelphia and covered the Braves on Saturday. This story was not subject to the approval of Major League Baseball or its clubs.