Hottest races at 3B, OF in NL All-Star voting
Mere thousands separate Bryant and Arenado, Ozuna and others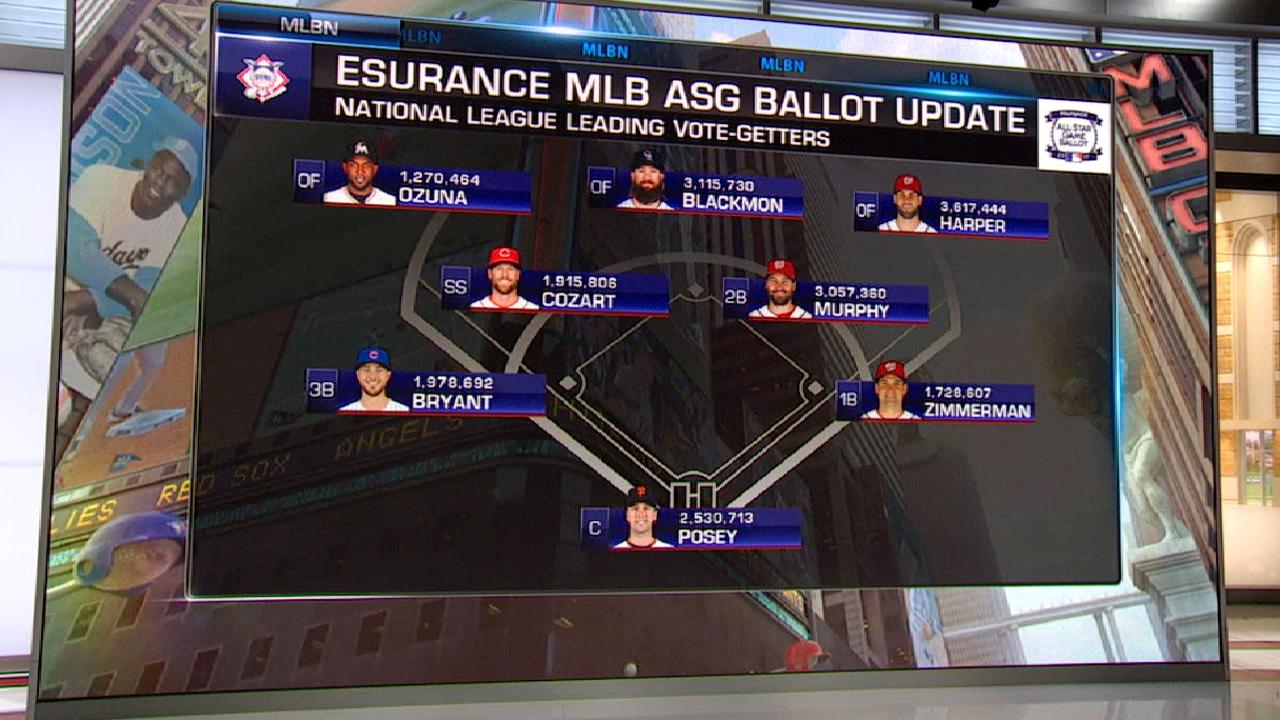 We're this close, barely two weeks, until the 88th All-Star Game presented by Mastercard in Miami. And a mere days away from learning which of the world's best players will participate in the game, set for July 11 at Marlins Park in Miami.
The final update on the balloting for starting position players arrived on Monday. This is the final week for fans to vote in the Esurance MLB All-Star Game Ballot. Voting ends Thursday at 11:59 p.m. ET. The starting players and rosters will be revealed on Sunday at 7 p.m. ET on ESPN.
• Cast your Esurance All-Star ballot for #ASGWorthy players
In the National League, Marlins outfielder Marcell Ozuna leapfrogged two popular Cubs in this week's only ballot change. Elsewhere, Rockies superstar Nolan Arenado significantly closed the gap on reigning NL Most Valuable Player Kris Bryant at third base, and Nationals outfielder Bryce Harper remained baseball's top overall vote-getter.
• It's down to the wire at 1B, 3B, DH in AL vote
Here are the latest results:
CATCHER
1. Buster Posey, Giants: 2,530,713
2. Willson Contreras, Cubs: 1,216,513
3. Yadier Molina, Cardinals: 1,068,485
4. Yasmani Grandal, Dodgers: 749,923
5. Matt Wieters, Nationals: 680,644
Posey appears to be a lock to start in what would be his fifth All-Star Game, and for good reason. Posey has been a bright spot amid San Francisco's dismal year, leading all Major League catchers in hitting, on-base percentage, OPS and hits, while striking out fewer times than he's walked. Posey leads Contreras by more than a million votes.
FIRST BASE
1. Ryan Zimmerman, Nationals: 1,728,607
2. Anthony Rizzo, Cubs: 1,601,245
3. Paul Goldschmidt, D-backs: 1,200,995
4. Freddie Freeman, Braves: 767,375
5. Joey Votto, Reds: 703,832
What could be the league's most loaded position continues to feature one of the tightest races on the ballot. Rizzo seems determined to make things close with Zimmerman, who could make his first All-Star Game since 2009. The Nationals' first baseman continues to pace the Majors in hitting (.350), while ranking in the top three in slugging (.657) and OPS (1.049). With Goldschmidt, Votto and the injured Freeman rounding out the top five, is there really a bad choice here?
SECOND BASE
1. Daniel Murphy, Nationals: 3,057,360
2. Javier Baez, Cubs: 1,654,829
3. DJ LeMahieu, Rockies: 621,188
4. Brandon Phillips, Braves: 475,916
5. Logan Forsythe, Dodgers: 393,238
One of the best hitters in baseball is having his way in a weak field. Murphy made his second All-Star team last season after bursting on the scene with a monster first half in his first year with Washington. This year, he's enjoying a nearly mirror image of last season, and in all likelihood it will earn him his first All-Star start.
THIRD BASE
1. Kris Bryant, Cubs: 1,978,692
2. Nolan Arenado, Rockies: 1,920,610
3. Justin Turner, Dodgers: 1,075,524
4. Anthony Rendon, Nationals: 779,468
5. Jake Lamb, D-backs: 726,560
Long one of the game's best kept secrets, Arenado had his coming-out party over the past few weeks as the cycle-slamming face of the upstart Rockies. That helped him make up significant ground on Bryant since the last voting update. Third base is now the tightest race on the ballot.
Arenado earned 244,632 more votes than Bryant in the past week, and the two players are now separated by just 58,082 votes.
SHORTSTOP
1. Zack Cozart, Reds: 1,915,806
2. Corey Seager, Dodgers: 1,657,732
3. Addison Russell, Cubs: 1,204,204
4. Trea Turner, Nationals: 804,703
5. Chris Owings, D-backs: 676,666
It'll be interesting to see if Seager, the reigning NL Rookie of the Year, can make a late push to overcome Cozart, who is having a career year at age 31. Seager has avoided a sophomore slump and leads Major League shortstops in runs, but Cozart leads in all three slash-line categories. He entered the week hitting an eye-popping .320/.404/.562.
OUTFIELD
1. Bryce Harper, Nationals: 3,617,444
2. Charlie Blackmon, Rockies: 3,115,730
3. Marcell Ozuna, Marlins: 1,270,464
4. Jason Heyward, Cubs: 1,241,194
5. Ben Zobrist, Cubs: 1,122,946
6. Giancarlo Stanton, Marlins: 1,069,313
7. Matt Kemp, Braves: 1,058,050
8. Kyle Schwarber, Cubs: 949,780
9. Yoenis Cespedes, Mets: 785,178
10. Adam Duvall, Reds: 664,379
11. Dexter Fowler, Cardinals: 631,395
12. Yasiel Puig, Dodgers: 626,565
13. Jay Bruce, Mets: 561,984
14. Jayson Werth, Nationals: 540,609
15. Carlos Gonzalez, Rockies: 518,241
Ozuna has become the best player in a Marlins outfield that he shares with Stanton and Christian Yelich, and undoubtedly is one of the best in the NL at age 26. It seems fans are starting to notice, as he was able to leapfrog Heyward and Zobrist for the final starting outfield spot.
Both Heyward and Zobrist are wildly popular in Chicago, but both have also been below-average hitters this season, according to OPS+. Meanwhile, Ozuna is hitting .319/.383/.575 with 20 home runs and 54 RBIs. He started for the NL in last summer's game, but as an injury replacement for Fowler, a Cubs outfielder at the time.
Last season, Cubs fans helped vote five Chicago starters onto the NL starting lineup. But this season, with the Cubs hanging around the .500 mark instead of running away with the NL Central as they did in 2016, their fans will have to fight to keep even just one player, Bryant, in a starting spot.
Fans may cast votes for starters at MLB.com and all 30 club sites -- on computers, tablets and smartphones -- exclusively online using the 2017 Esurance MLB All-Star Game Ballot until Thursday at 11:59 p.m. ET. On smartphones and tablets, fans can also access the ballot via the MLB.com At Bat and MLB.com Ballpark mobile apps.
The Esurance All-Star Selection Show will take place on Sunday at 7 p.m. ET on ESPN. Following the unveiling of the2017 All-Star starters, reserves and pitchers, fans should return to MLB.com and cast their 2017 Esurance MLB All-Star Game Final Vote for the final player on each league's All-Star roster. Then on Tuesday, July 11, while watching the 2017 All-Star Game presented by Mastercard live on FOX, fans may visit MLB.com to submit their choices for the Ted Williams Most Valuable Player Award presented by Chevrolet with the 2017 MLB All-Star Game MVP Vote.
The 88th Midsummer Classic, at Marlins Park in Miami, will be televised nationally by FOX Sports; in Canada by Rogers Sportsnet and RDS; and worldwide by partners in more than 160 countries. ESPN Radio and ESPN Radio Deportes will provide exclusive national radio coverage, while MLB Network, MLB.com and SiriusXM will have comprehensive All-Star Week coverage. For more information about MLB All-Star Week and to purchase tickets, please visit AllStarGame.com.
Joe Trezza is a reporter for MLB.com based in New York. Follow him on Twitter at @joetrezz. This story was not subject to the approval of Major League Baseball or its clubs.