Suzuki seizing chances, impressing Braves
Catcher heating up in May, goes 2-for-3 with three-run homer in win over Jays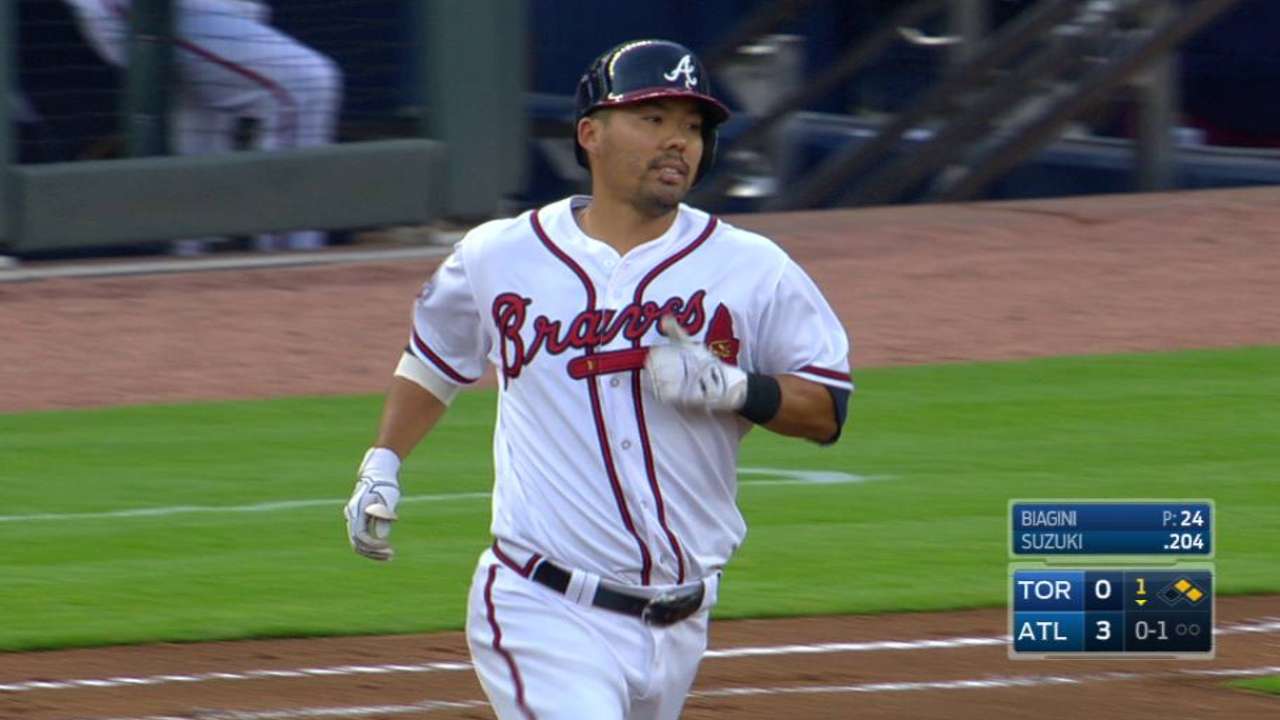 ATLANTA -- Braves catcher Kurt Suzuki continues to hit when given the opportunity. Wednesday night was no different as he went 2-for-3 with a three-run homer, which capped Atlanta's six-run first inning. The Braves went on to post an 8-4 victory over the Blue Jays at SunTrust Park.
The veteran catcher's biggest adjustment has been staying relaxed at the plate. He has been working with Braves hitting coach Kevin Seitzer to focus on staying inside the ball and driving it up the middle.
"For me, the key is to be loose and tension-free to create that bat speed," Suzuki said. "It helps me stay middle of the field and keep my approach."
In May, Suzuki has appeared in seven games and has hit .316 with a homer and two doubles. His slugging percentage has also increased from .273 in April to .579 in May. The result has seen him get more playing time as he appeared in three games over the past week. Also in that time, his batting average has moved up 36 points from .195 on May 7 to .231.
"I am trying to have good at-bats, put the barrel on the ball and see what happens," Suzuki said.
Braves manager Brian Snitker has liked what he has seen from Suzuki recently. Suzuki could push for more playing time alongside fellow Braves catcher Tyler Flowers. Flowers has been the primary option and is hitting .347.
"He has been great," Snitker said. "He and Tyler both are splitting this thing up and doing a really good job."
Jaylon Thompson is a reporter for MLB.com based in Atlanta. This story was not subject to the approval of Major League Baseball or its clubs.