Dickey understands pinch-hit decision vs. Nats
Righty was in good shape after 7 innings in matchup with Strasburg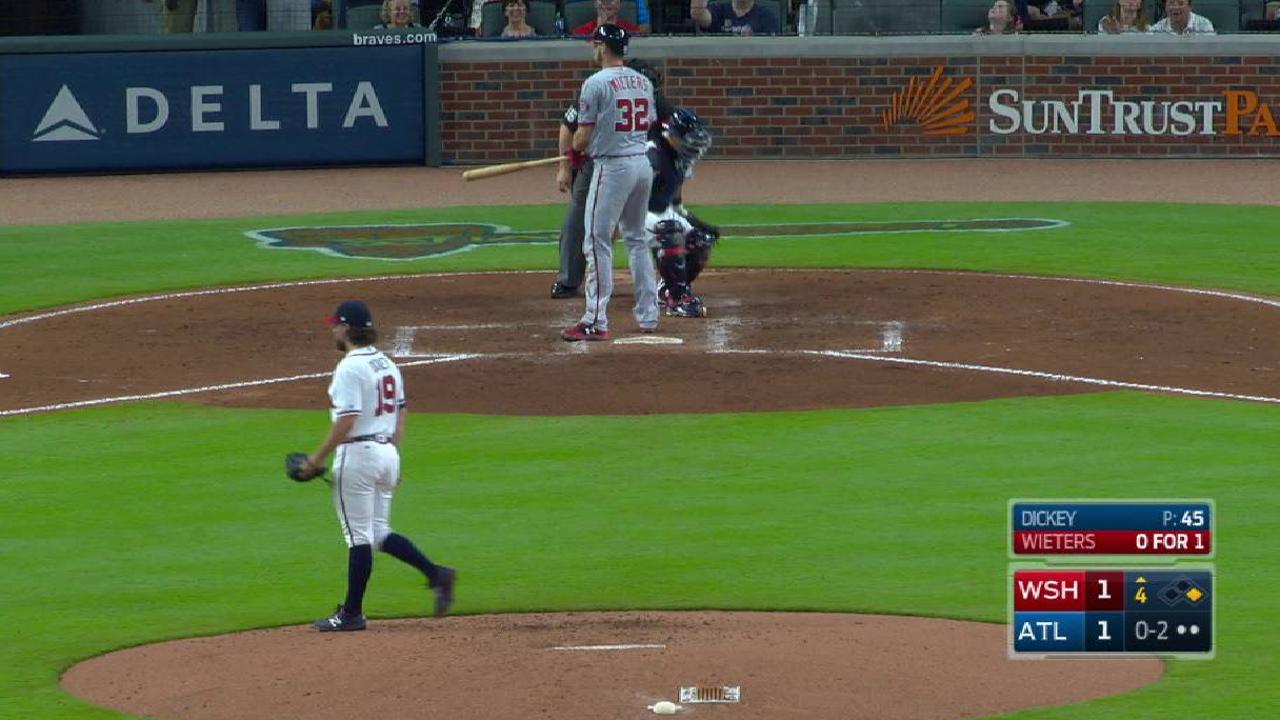 ATLANTA -- It has not been surprising to see the Braves' bench struggle to begin the season. But manager Brian Snitker still opted to take the conventional route when he pulled an efficient R.A. Dickey during the seventh inning of Thursday's 3-2 loss to the Nationals and gave Emilio Bonifacio another chance to deliver as a pinch-hitter.
"You can go either way," Snitker said. "If I did it 10 times, I'd probably be half and half. I was kind of thinking offensively right there. Boni could put one in the gap or put one in the hole, and we've got first and third and could have had a big inning."
With the Braves down one run in the seventh inning with a runner on first base, Snitker's decision was made more challenging by the fact that Dickey had thrown just 73 pitchers and his go-to pinch-hit option was Bonifacio, who has two hits in 18 at-bats this year and a .407 OPS over 144 plate appearances dating back to the start of the 2015 season.
Once Bonifacio struck out against Stephen Strasburg during what became a scoreless seventh inning, Dickey bid adieu to a seven-inning outing that was marred only by the two-out damage Bryce Harper and Ryan Zimmerman combined to create during the sixth inning. Harper stared at a couple of borderline knuckleballs during a five-pitch walk, and Zimmerman drilled a hanging knuckleball over the left-center-field wall for a decisive two-run homer.
"I was hoping I could go up there and bunt and that would keep me in the game," Dickey said. "Boni is traditionally a very good bunter. I've been playing with him for years, and I completely got it. That's what should have happened. You want a hitter up there in that situation when you need a run. But I did feel like there was a chance I could get that at-bat and stay in the game, on a night where it was a good night for us to save the [bullpen]."
Given that the Braves' bullpen didn't allow another run and the fact that there was no guarantee Dickey was going to advance Kurt Suzuki to second base, Snitker's seventh-inning decision didn't necessarily serve as the night's defining moment. But it did once again shine a light on the lack of attractive bench options that exist for the Braves, who have seen their pinch hitters go 2-for-25 thus far.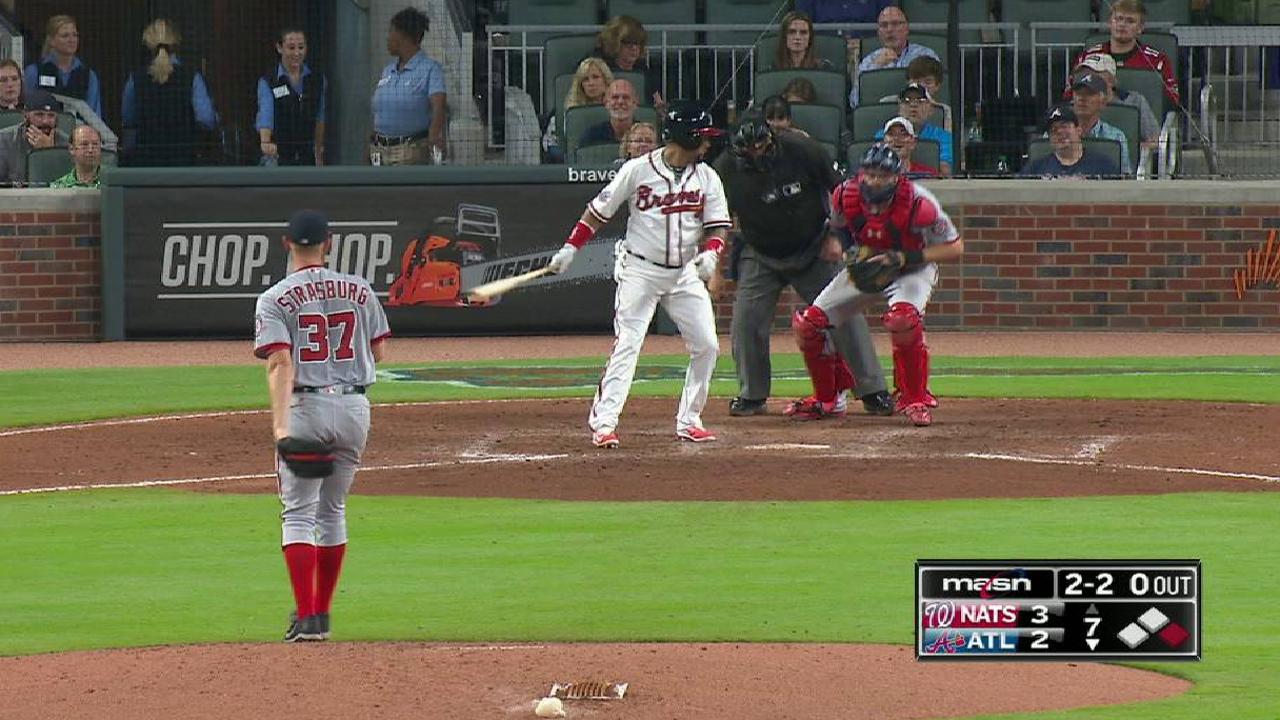 Dickey's primary frustration was aimed at that sixth-inning sequence. He threw three borderline pitches to Harper, but was most upset about a 3-1 knuckleball that was in the middle of the plate and at the knees. Once plate umpire Fieldin Culbreth ruled the pitch a ball, Zimmerman was given the opportunity to drill the decisive homer off Dickey, who had surrendered just two hits before hanging that ill-fated pitch to the Nationals' first baseman.
"[Umpires] are going to miss some," Dickey said. "I don't think it carried into the next at-bat with Zimmerman. I just threw a knuckleball that didn't bite. If I throw one that bites, he hits the top of it and we're probably talking about a completely different outcome."
Mark Bowman has covered the Braves for MLB.com since 2001. This story was not subject to the approval of Major League Baseball or its clubs.