Snitker: Cabrera has to hone command
Young flamethrower 'needs to figure some things out' before earning bullpen spot
LAKE BUENA VISTA, Fla. -- After Mauricio Cabrera's command issues became more problematic during the ninth inning of Monday's 9-3 loss to the Marlins at ESPN's Wide World of Sports complex, Braves manager Brian Snitker indicated the hard-throwing right-hander will have to make some adjustments before he is given a spot in Atlanta's bullpen.
"He's spraying it around there pretty good," Snitker said. "He's going to have to figure some things out on the side, because obviously there's some mechanical issues right now."
Cabrera entered dangerous territory as he had trouble commanding his high-octane fastball, issuing a pair of walks, hitting a batter and retiring just two of the six Marlins he faced. After recording a quick popout, he issued consecutive one-out walks, including one to Branden Berry, who was nearly plunked above the shoulders with an errant heater.
• Spring Training: Info | Tickets | Schedule | Gear
Zach Sullivan avoided another roving pitch before hitting a two-run triple. Cabrera's day ended one batter later when he hit Matt Juengel on the left side with a pitch.
Cabrera, 23, has not been scored upon during six of his eight Grapefruit League appearances, but he has now issued at least two walks in two of his past three outings. This is not a good trend for the young reliever, who struggled with his command before making adjustments that brought him to the Majors in June.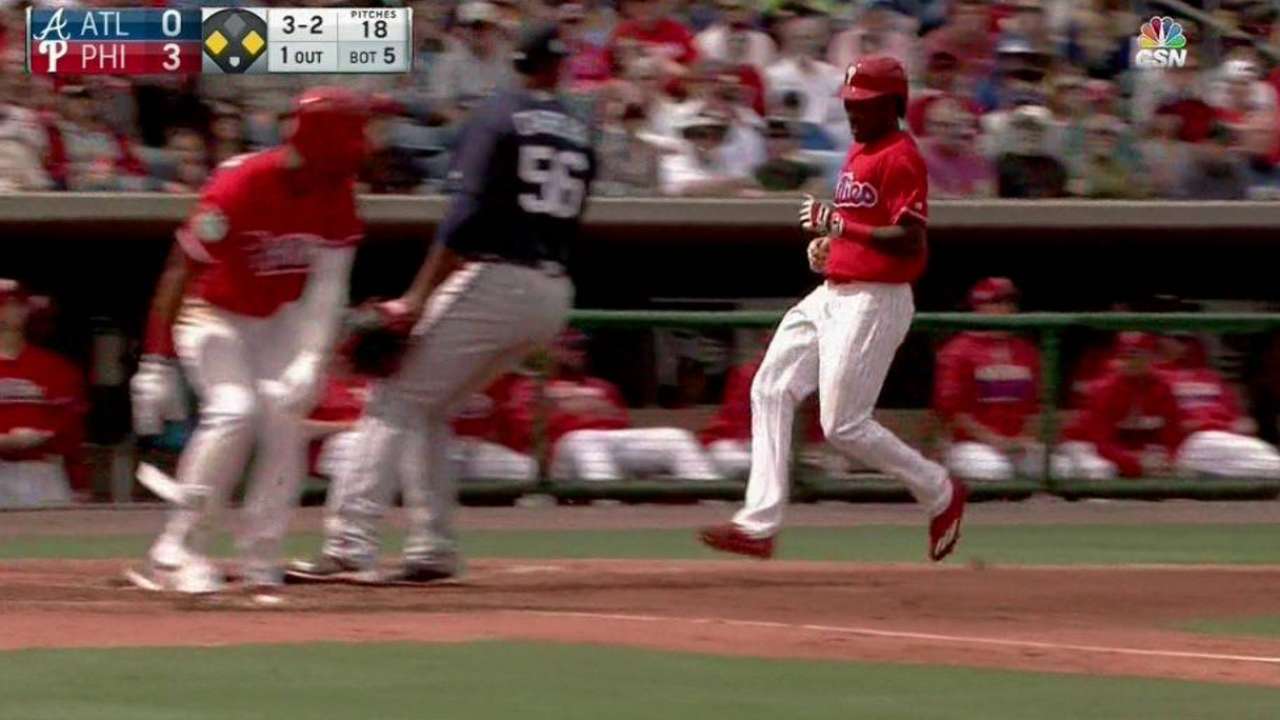 While giving Aroldis Chapman some competition in the velocity category, Cabrera posted a 2.82 ERA and recorded 32 strikeouts with 19 walks over 38 1/3 innings with Atlanta last year. His command might not have been pristine, but the Braves were hoping he'd at least be able to build on the strides made last year.
"He's not a polished guy yet," Snitker said. "He's a young kid, and he's still learning. He's a young kid with a great arm, so he's probably going to get out of whack every now and then. We just have to stay with him and keep working with him to see if we can get him back in the zone."
With Cabrera struggling, the Braves would have the option to send him to Triple-A Gwinnett and open a bullpen spot for either Blaine Boyer or Chaz Roe, a pair of veterans battling for the final available spots.
Mark Bowman has covered the Braves for MLB.com since 2001. This story was not subject to the approval of Major League Baseball or its clubs.