Braves weighing bullpen/bench balance
Atlanta could opt for either 8-man relief unit or bolstering backup position-player group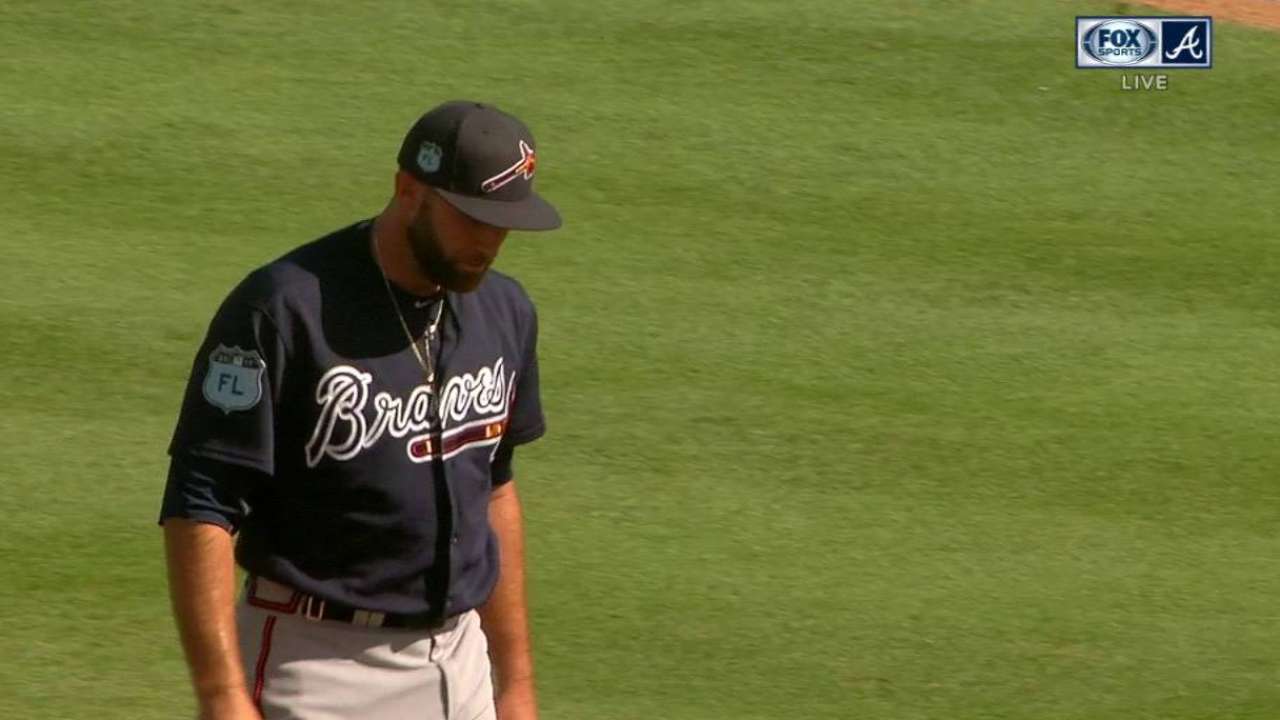 LAKE BUENA VISTA, Fla. -- If forced to immediately make a decision, the Braves would likely open this season with an eight-man bullpen. But with Opening Day two weeks away, they still have plenty of time to evaluate the wisdom of that plan, which would leave them shorthanded on a potentially weak bench.
"We are trying to upgrade the bench," Braves general manager John Coppolella said. "If we can't upgrade the bench, we'll just go with what we have. But we don't want to limit ourselves. We are always trying to find ways to get better."
Over the next week, the Braves will closely monitor the status of Clint Robinson (Nationals), Daniel Nava (Phillies) and some other veterans who might not be fits for their current teams' Opening Day rosters. This search could also lead to a swap of out-of-options players via trade. But Atlanta hasn't shown any recent interest in Angel Pagan, Jeff Francoeur, Kelly Johnson or any of the other available veteran free agents who haven't participated in Spring Training with any club.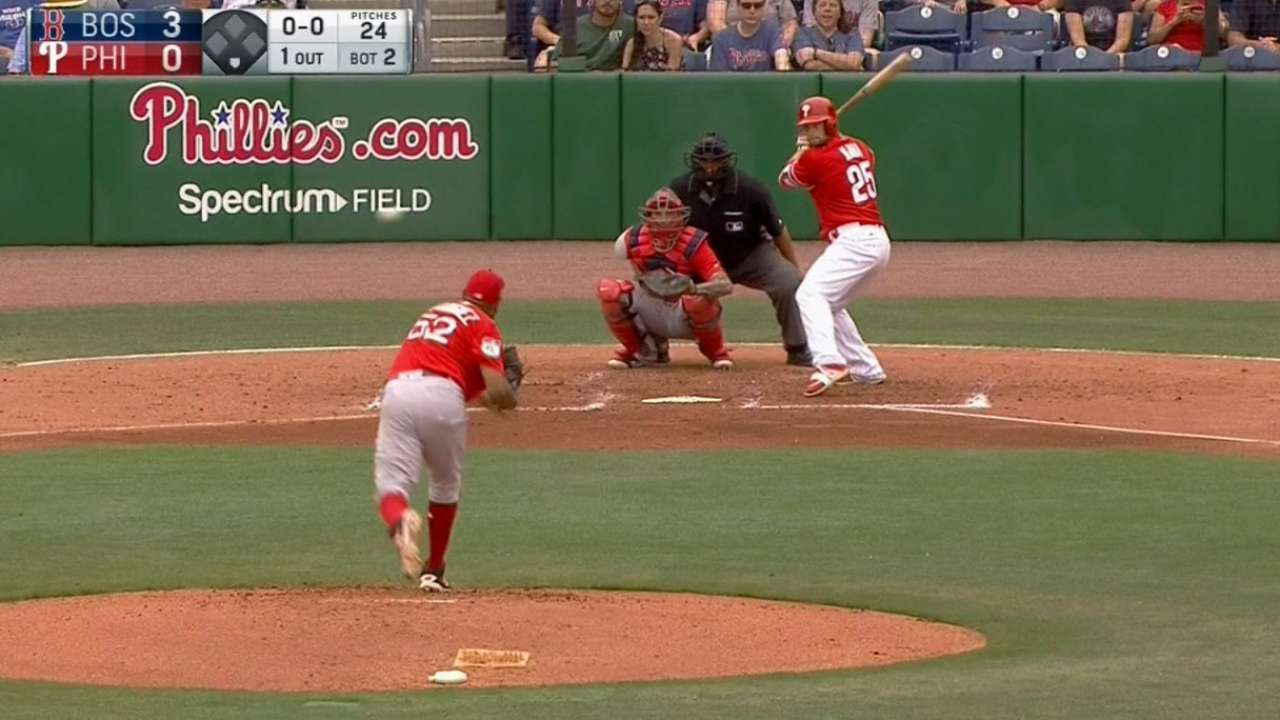 Keeping with the assumption that the Braves will go with an eight-man bullpen, the internal candidates most likely to fill the four bench spots are Jace Peterson, Chase d'Arnaud, Emilio Bonifacio and Kurt Suzuki. Peterson and d'Arnaud provide defensive versatility, but with Suzuki the backup catcher, this would be a three-man bench with limited offensive value.
Obviously, the Braves could expand the bench options by going with a seven-man bullpen. But for now, it seems they'd rather carry that extra reliever.
"There are probably two or three spots open [in the bullpen], and you probably have a good idea of who might [fill those spots], but it's not written in blood," Coppolella said. "We're still feeling it through."
The current locks for the Braves' bullpen appear to be closer Jim Johnson, Arodys Vizcaino, Jose Ramirez, Ian Krol and long reliever Josh Collmenter. Mauricio Cabrera could move back into this category if he fixes his recent command issues. Non-roster left-hander Eric O'Flaherty has established himself as a "near-lock," bringing up a question as to whether Atlanta needs three lefty relievers -- Krol, O'Flaherty and lefty specialist Paco Rodriguez.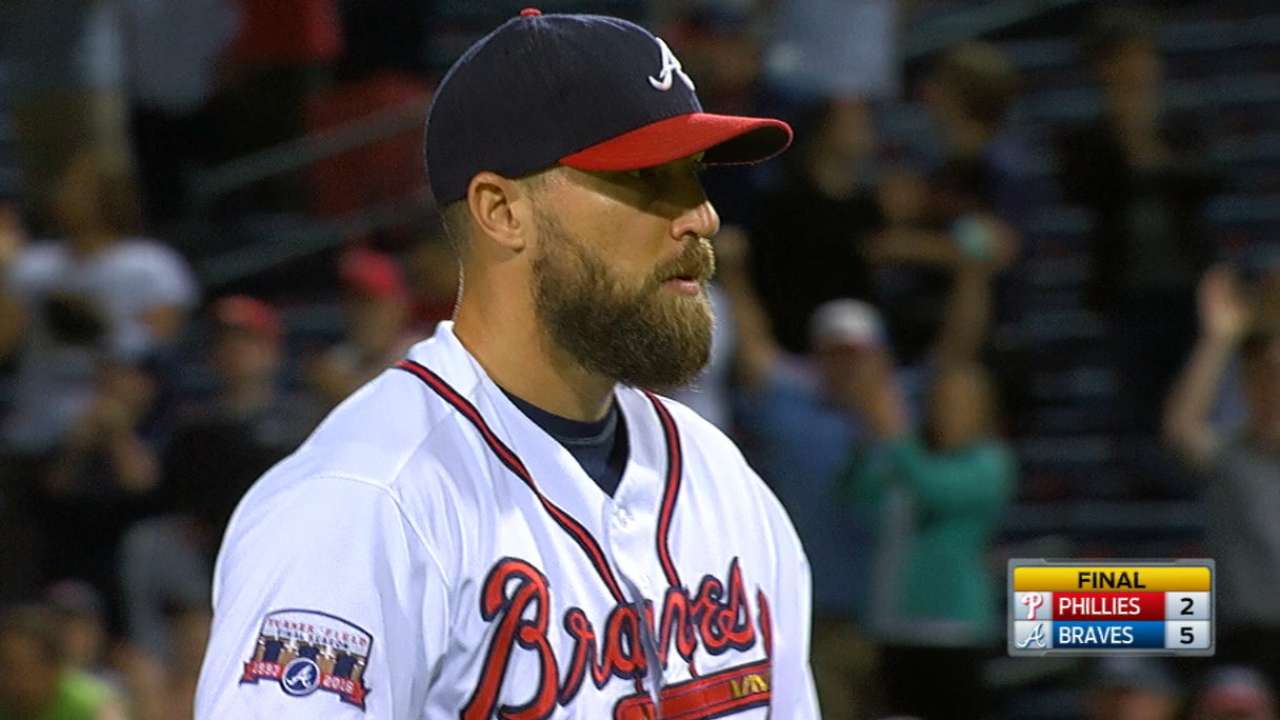 Assuming the Braves go with O'Flaherty, it might come down to Rodriguez or either non-roster invitee Blaine Boyer or Chaz Roe, who is out of options.
Since struggling in three of his first four outings, Boyer has completed three consecutive scoreless appearances and continued to generate a little more velocity with a fastball that has been touching 95 mph.
Like Boyer, Roe has produced better results over the past two weeks and seemingly regained a feel for his slider. The Braves certainly don't want to lose the veteran right-hander, but they might be able to trade him to a bullpen-needy club that has an excess bench option.
"Part of the reason we haven't figured out our 'pen is we have a lot of really good options," Coppolella said. "It's not like we're going to give the final spot to the last man standing like we have the past few springs. We have some good choices about which way we might want to go."
Mark Bowman has covered the Braves for MLB.com since 2001. This story was not subject to the approval of Major League Baseball or its clubs.