Johnson breaks wrist; Braves' OF depth takes hit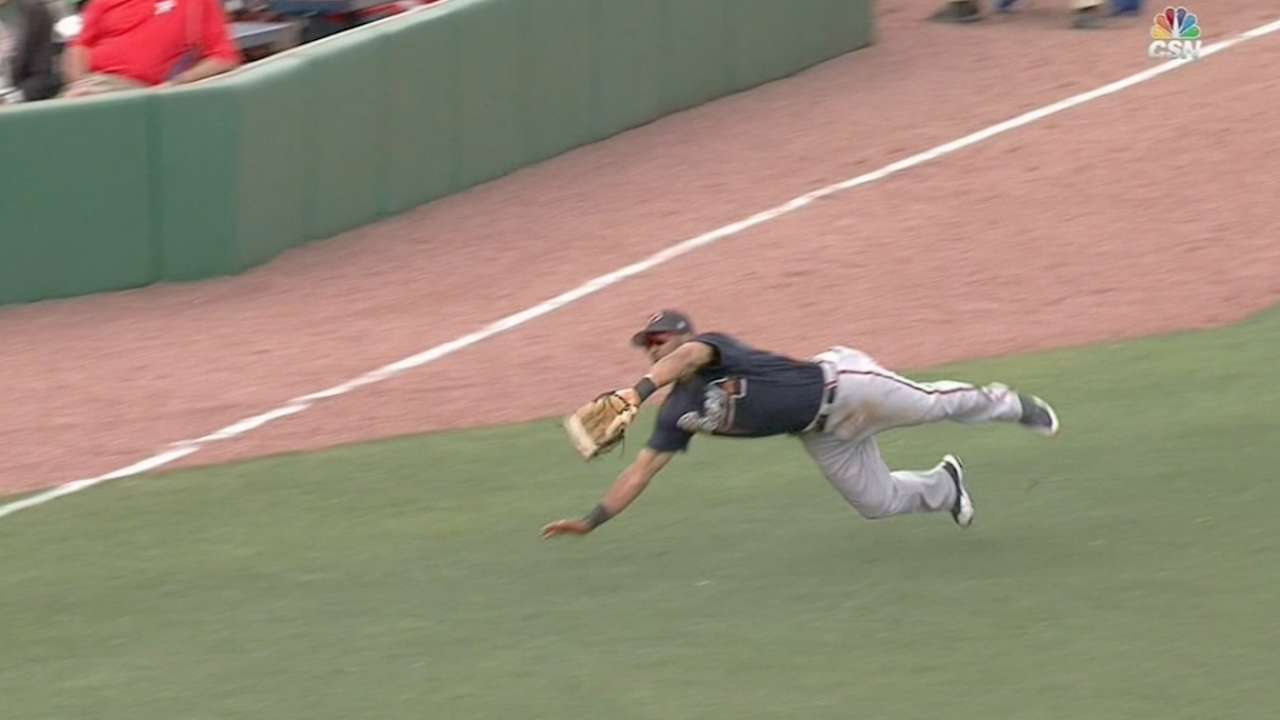 LAKE BUENA VISTA, Fla. -- Further tests and evaluations revealed Braves outfielder Micah Johnson sustained a fractured left wrist as he tumbled while making a diving catch during Tuesday's game against the Phillies in Clearwater, Fla.
During Thursday afternoon's 5-3 loss to the Tigers, the Braves announced Johnson will undergo surgery. Initial X-rays taken on Tuesday did not show a fracture, but by Wednesday, there was some concern Johnson was dealing with more than the initial diagnosis, which was a wrist sprain.
Dr. Gary Lourie will perform they surgical procedure in Atlanta. The Braves have not yet announced how much time Johnson might miss.
"It's a shame because he was playing well and improving in the outfield," Braves manager Brian Snitker said. "His game was coming around too."
Though the outfielder was not expected to be on Atlanta's Opening Day roster, the Braves now have a serious issue with the outfield depth in the upper levels of their Minor League system. Dustin Peterson would have likely been the first outfielder promoted if there was a need for an everyday option in Atlanta. But Peterson will be sidelined into May while recovering from hamate surgery.
"These are guys that can help you over the course of the year," Snitker said. "Whether they make the team here or go to Triple-A, they're good pieces to have there and they're guys you're going to need. It hurts to lose them."
An audible gasp could be heard throughout the stadium when Johnson raced toward the left-field line on Tuesday and dove head-first to rob Pedro Florimon of a two-out base hit in the fifth inning. As the Braves' left fielder landed, the fingers of his glove hit the ground before his left hand bent back as he continued sliding across the turf.
Johnson rolled over a couple of times before momentarily remaining on the ground. He then quickly bounced up and ran toward the dugout before heading to the clubhouse for further examination.
Mark Bowman has covered the Braves for MLB.com since 2001. This story was not subject to the approval of Major League Baseball or its clubs.