Young Acuna raising eyebrows at Braves camp
19-year-old outfielder has drawn comparisons to Andruw Jones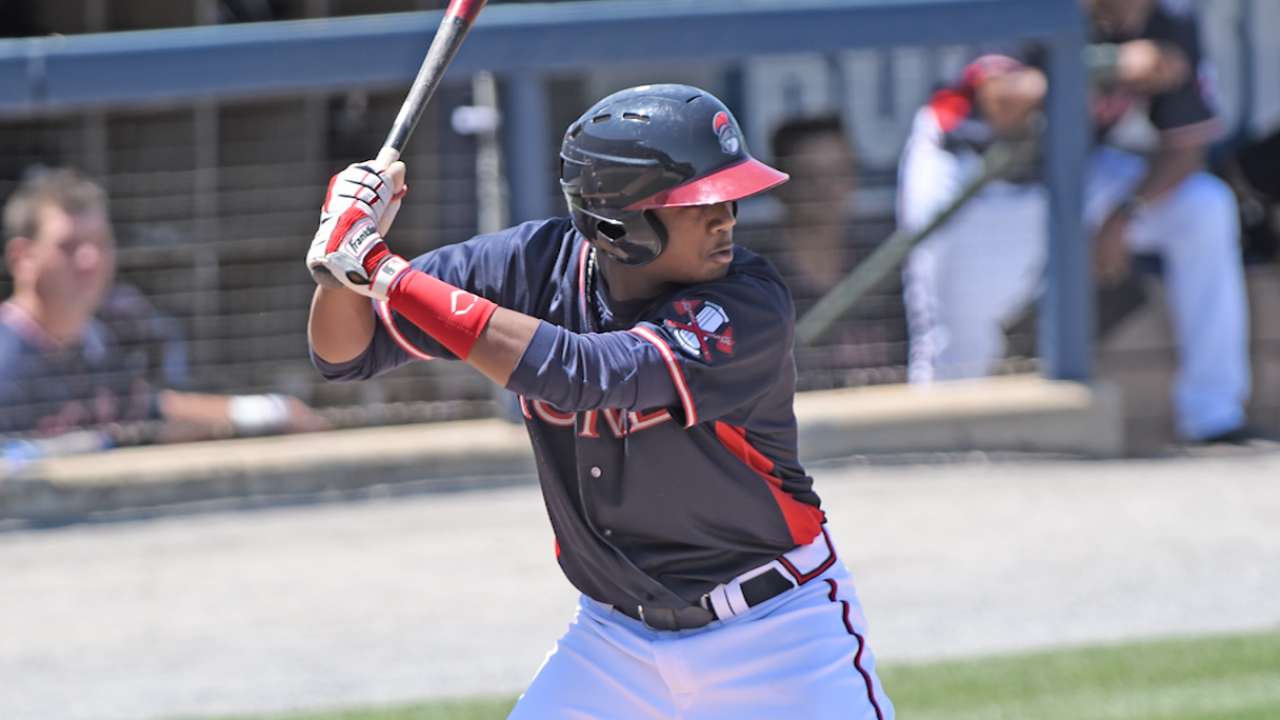 TAMPA, Fla. -- Ronald Acuna has steadily become a well-known figure among Braves fans since he caught the attention of Bobby Cox and some of Atlanta's upper-level executives during the 2015 Instructional League. But the 19-year-old outfielder's legend has truly grown since he came to this year's Spring Training and gained the welcome surprise he would have a chance to compete in some big league exhibition games.
Though he has been used simply as an extra called over from Minor League camp, Acuna played in his 10th Grapefruit League game Sunday, batting leadoff and playing center field in the Braves' 10-2 victory over the Yankees at George M. Steinbrenner Field.
"He's just such a talented, fun kid to watch," said Braves manager Brian Snitker. "I told [Braves assistant director of player development Jonathan Schuerholz] the other day, 'If you don't want me to play him, you better not send him over, because if I've got him, I'm going to play him.' He's a very talented and skilled young man. He has fun playing too.
"With his skill set and what he brings, he's going to be a young Major Leaguer."
After beginning Sunday's game with an infield single, Acuna displayed his speed as he scored from second base on Nick Markakis' single to shallow left field. He drew a walk in his second plate appearance of the six-run first inning and then capped a productive two-hit performance when he tripled off the center-field wall in the ninth inning.
• Spring Training: Information | Tickets | Schedule | Gear
Acuna has eight hits, including three doubles, through 22 Grapefruit League at-bats. In addition to having success at the plate, he also has impressed with the poise and composure he has shown while being thrust onto this bigger stage.
"If somebody would have seen him for the first time [Sunday], they might have thought he was our [big league] center fielder, " Snitker said.
Chipper Jones, Snitker and some other long-standing members of the organization say the 19-year-old Acuna reminds them of Andruw Jones, just with a little less power potential at this stage of his development.
Given that he totaled less than 50 games at the Class A level during last year's injury-marred season, Acuna likely won't duplicate Jones' achievement of becoming a teenage Major Leaguer. But after starting this season with Advanced Class A Florida, the five-tool prospect could make a quick rise and possibly come to next year's Spring Training with a realistic shot at making his big league debut in 2018.
"He could come quick," Snitker said. "He's done well in Spring Training, but he's going to face guys that have been around for a while, those guys in [Class A Advanced] who are a little older and change speeds a lot. But just watching him go here, he hits changeups, fastball and breaking balls with two strikes. He fouls balls off when he's late and then makes adjustments. There's a lot to like."
Signed for the bargain price of $100,000 out of Venezuela in 2014, Acuna gained notice as he skipped the Dominican Summer League and proved successful while playing at 17 years old in the Rookie-level Gulf Coast and Appalachian Leagues. He hit .311 with a .819 OPS with Class A Rome, but played just 40 regular-season games because of a thumb injury suffered early in the season.
"It's the same game, so I just try to maintain the same approach," Acuna said through an interpreter. "I'm trying to stay within myself and just do the things I know I can do."
Mark Bowman has covered the Braves for MLB.com since 2001. This story was not subject to the approval of Major League Baseball or its clubs.