Fried showing no rust, impressing Braves
No. 9 prospect, who has been compared to Hamels, unfazed by first big league camp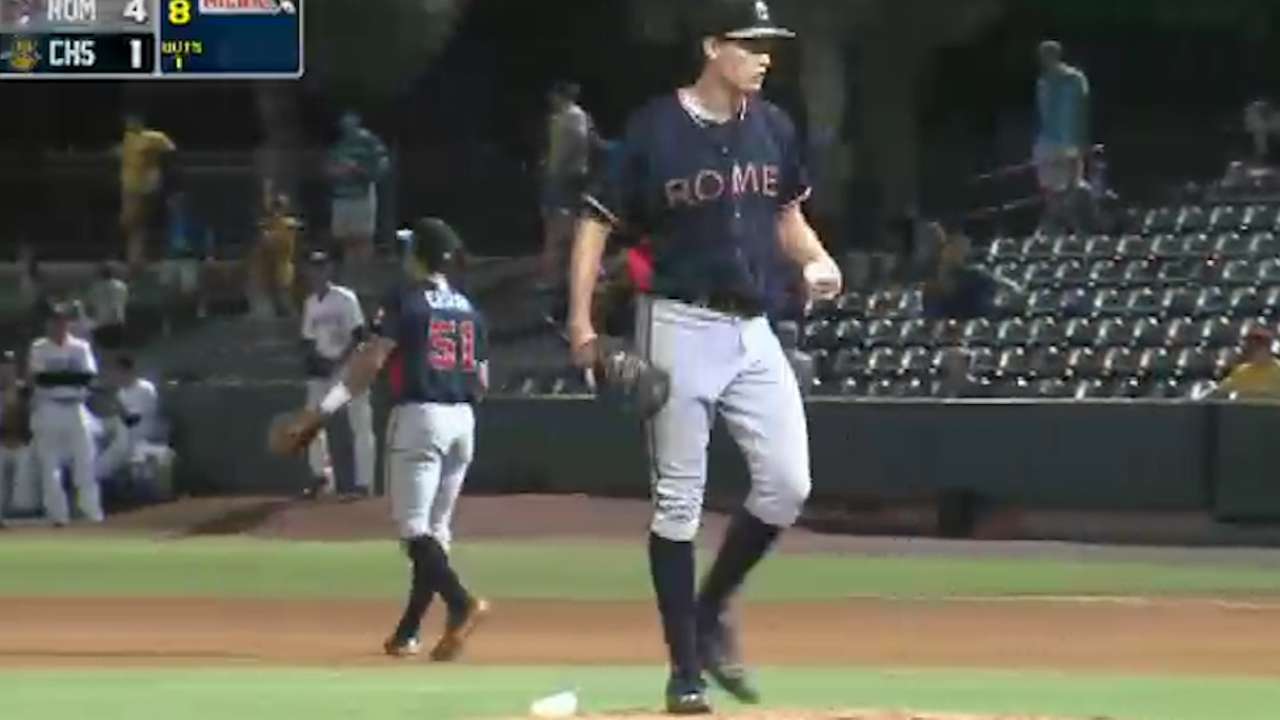 LAKE BUENA VISTA, Fla. -- Regardless of what transpires over the remainder of Spring Training, Max Fried's performance will stand as one of the most impressive and encouraging developments to come out of the Braves' camp.
Making what might have been his final appearance before being sent to Minor League camp, Fried breezed through a scoreless eighth inning during Friday's 5-2 win over the Mets at ESPN's Wide World of Sports complex. The talented lefty, who has drawn comparisons to Cole Hamels, struck out the first two batters faced and then negated a two-out walk with a pickoff.
• Spring Training: Information | Tickets | Schedule | Gear
"It's kind of neat to watch him," Braves manager Brian Snitker said of Fried, the Braves' No. 9 prospect per MLBPipeline.com. "He's come a long way. He had a nice little career going and then got sidelined. So it's kind of nice to give him a taste of this atmosphere and the game here."
Though he has never pitched above the Class A level, Fried has been unfazed by what he has experienced during his first big league camp. Hall of Fame pitcher and Braves broadcaster Don Sutton was impressed by the maturity and intelligence the 23-year-old southpaw expressed after they conversed for the first time this past week.
But what has truly stood out is that curveball and the fluidity of the consistent delivery the young hurler produces with his 6-foot-4 frame. No longer is there reason to be concerned with the struggles Fried showed in the first half of last season at Class A Rome, where he was shaking off the rust that developed since he'd last pitched before Tommy John surgery in 2014.
"[Pitching coach] Chuck Hernandez was talking where [Fried] was a year ago now compared to now and how far he has come," Snitker said. "He's going to have a nice little future. He's a good-looking pitcher."
Fried has recorded five strikeouts and surrendered just one hit over four scoreless innings in Grapefruit League play.
Though it's certainly entertaining to see Fried pitch an inning here or there, the Braves are nearing a point where they may need to send him to Minor League camp to draw the multiple-inning assignments necessary to begin the season as a starter.
Snitker said he's not sure whether Fried will make another appearance before exiting big league camp.
Odds and ends
• As Johan Camargo continues to establish himself as an intriguing bench option, Chase d'Arnaud will resume his candidacy Saturday when he returns to camp. He lost some weight while battling the flu last week and then was sidelined because of bronchitis this past week.
• Matt Tuiasosopo isn't part of the big league camp, but while being used as an extra called over from Minor League camp, he homered in three consecutive plate appearances that stretched from Thursday.
• Right-hander Patrick Weigel was reassigned to Minor League camp Friday. The Braves have 46 active players in camp.
Mark Bowman has covered the Braves for MLB.com since 2001. This story was not subject to the approval of Major League Baseball or its clubs.