Braves' catchers adapting to knuckleball
Flowers, Suzuki may split time behind the plate this season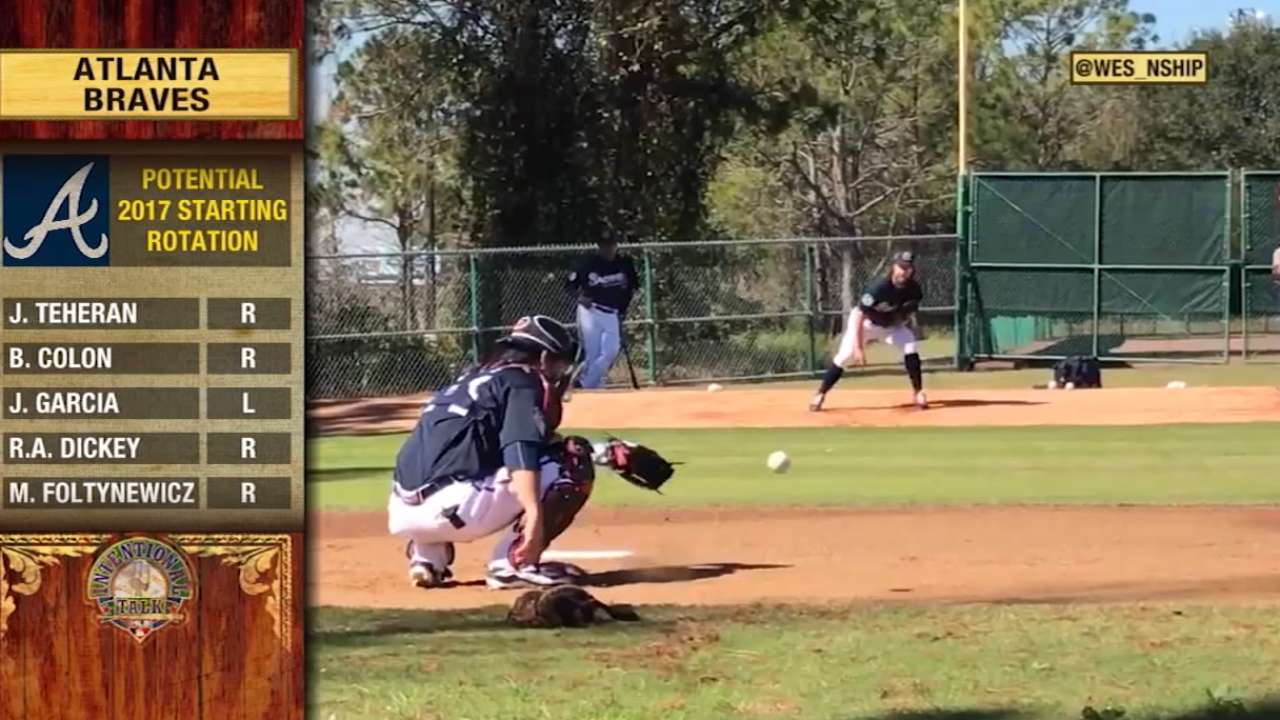 LAKE BUENA VISTA, Fla. -- Braves manager Brian Snitker will keep an open mind as he determines whether Tyler Flowers or Kurt Suzuki will serve as knuckleballer R.A. Dickey's catcher this year. Both veterans will prepare for the role and there's a chance they'll actually end up splitting it.
"We're going to need both of those guys to catch him," Snitker said. "If somebody gets banged up or something, the other guy is going to have to be ready to do it. We'll let them both catch him [during Spring Training]. Maybe there will be one guy who he is more comfortable with or one guy who is more comfortable catching him. Maybe we'll get the two guys ready and it won't matter. We can just split a series up based on matchups and things like that."
Dickey has repeatedly said he has found that those catchers who are committed to putting in the necessary preparations to handle his knuckleball have been successful.
"I think the guys that have the mentality of wanting to do it are going to do it well," Dickey said. "It's the guys who don't have a clear frame of mind or don't want to be embarrassed, those are the guys who are going to have trouble. We've got a good group here."
Flowers playfully responded to this job description in a self-deprecating manner.
"I've been embarrassed enough in my career, so this isn't going to be any different," Flowers said. "I've had to go get plenty of balls at the backstop, so I don't have any issue with looking bad here and there."
Flowers used a specially designed catcher's mitt, which is essentially just a little bigger than a normal one, while catching the bullpen session Dickey completed on Wednesday. Suzuki and Anthony Recker will also make preparations for the knuckleball before the regular season begins.
During the offseason, Flowers had a few conversations with Dickey and a couple of the guys who have recently served as the knuckleballer's catcher.
"There doesn't seem to be any clear-cut secret, but they had some suggestions and it was nice to hear a couple different things that can help you figure things out later," Flowers said.
Suzuki is expected to open the season as Flowers' backup, but Snitker indicated both veteran catchers could see significant time behind the plate this season.
"Over the six months we play, there's plenty of work for two guys," Snitker said. "It's getting to a point where you look around the league and there are very few [catchers] who log all of those games. It's almost a two-man job."
Mark Bowman has covered the Braves for MLB.com since 2001. This story was not subject to the approval of Major League Baseball or its clubs.