Freeman feels this year's optimism is genuine
Braves enter Spring Training with renewed motivation, confidence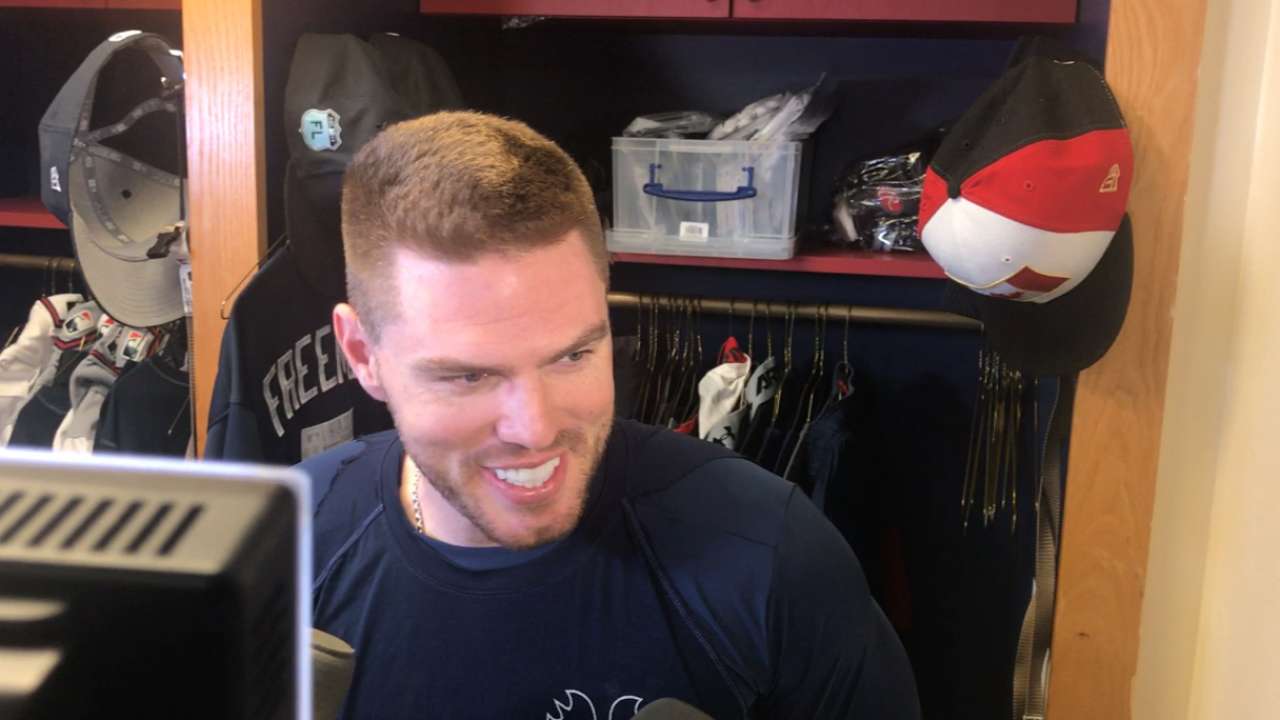 LAKE BUENA VISTA, Fla. -- Freddie Freeman was among those Braves who expressed optimism before each of the past two seasons, while fully understanding nothing short of miracle would prevent the team from enduring losing seasons during the early portion of a rebuilding process.
But with two years of an accelerated and aggressive rebuild now complete, Freeman has come to Spring Training with the firm belief that the Braves truly are ready to contend this year, and possibly further exceed expectations by making a strong run through October.
"The last couple years we've just been saying it, this year we actually mean it," Freeman said. "[The optimism] is very genuine. … I think the optimism in this camp right now is off the charts. A lot of people aren't picking us, but I think we'll be right there in September, playing meaningful baseball."
Some of this optimism is rooted in last year's 20-10 finish, which highlighted how significantly Matt Kemp's August arrival meant to Freeman, who concluded an MVP-caliber season in impressive fashion. Freeman and Kemp will once again sit in the middle of a lineup that could gain some assistance from a starting rotation that added three veterans this offseason in Bartolo Colon, R.A. Dickey and Jaime Garcia.
With Sean Rodriguez likely out for the season as he recovers from surgery to repair a torn left rotator cuff, the Braves have already had a significant setback. But with Brandon Phillips now in place to fill a portion of Rodriguez's void, Freeman still thinks the Braves have the potential to strive for something beyond a Wild Card berth.
"There is no limit in my opinion," Freeman said. "I think we have a real good shot. The way we finished last year and then coming into this with the guys we've brought in, everybody is excited."
.@FreddieFreeman5 is in the building! #BravesST pic.twitter.com/vZhqXatUi7

— Atlanta Braves (@Braves) February 16, 2017
One year after being given an eight-year, $135 million deal, Freeman entered the 2015 season knowing the next couple of seasons were going to be mentally taxing as the Braves picked up the pieces after trading the likes of Jason Heyward, Justin Upton, Evan Gattis and Craig Kimbrel for future assets.
Freeman debuted for the Braves in 2010 and experienced the postseason during two of his first three full seasons at the Major League level. That, combined with what he experienced over the past few seasons, has given him more motivation to do whatever he can to prove that the Braves truly have reached the point where they no longer have to deal with the immediate effects of a rebuild.
"I haven't had a winning record in three years and I want to get back," Freeman said. "When you first come up and you're in the playoffs and then all of the sudden you take a hiatus for a few years, that itch and that drive just comes back and I think that's what everybody feels around here. They want to get the Atlanta Braves back to where they were in the '90s and early 2000s."
Mark Bowman has covered the Braves for MLB.com since 2001. This story was not subject to the approval of Major League Baseball or its clubs.