Inbox: Can the Braves win the division in 2017?
Beat reporter Mark Bowman answers fans' questions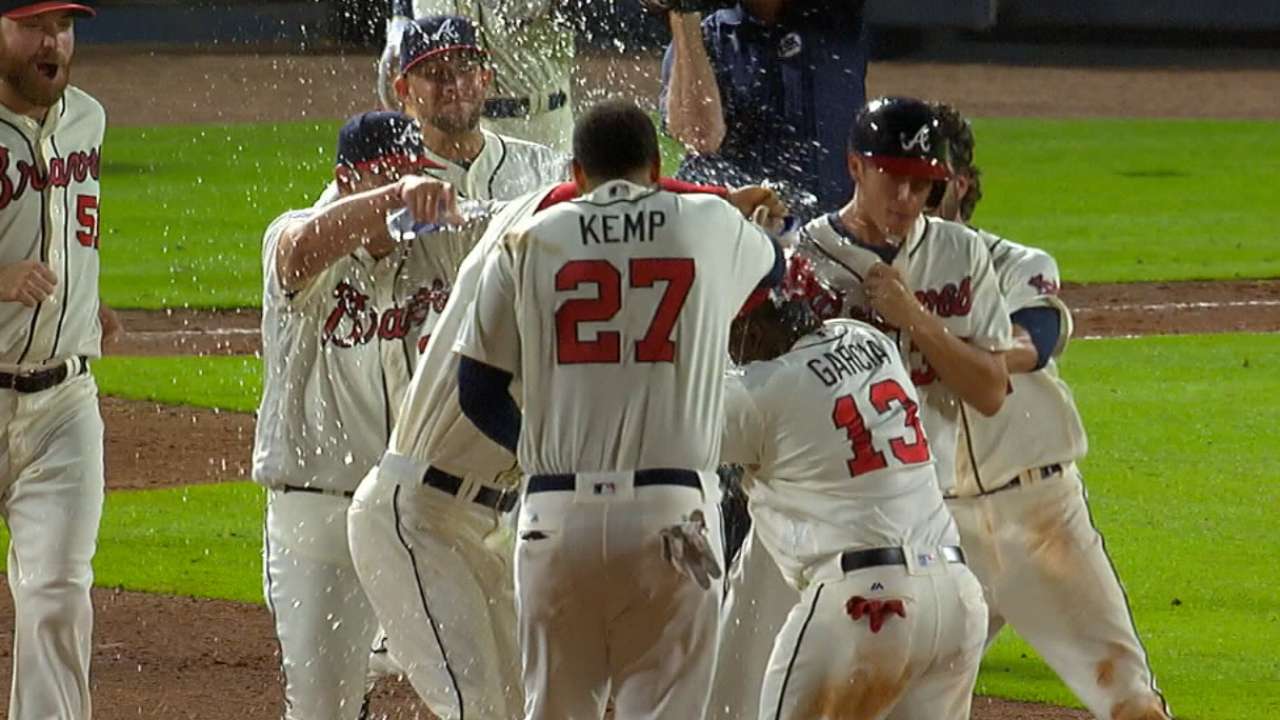 Given the strong finish last season and the veteran pitching additions during the offseason, are the Braves legit contenders for the National League East, or am I just overly optimistic?
-- Ryan K., Burlington, Iowa
Baseball evaluators have long said you have to be careful about what you see in September, but as Atlanta won 20 of those final 30 games last year, the Braves did so in a manner that provides even more reason to be optimistic about what the additions of Bartolo Colon, Jaime Garcia and R.A. Dickey might bring.
During that final 30-game stretch, the Braves overcame the 5.19 ERA their starting rotation produced by tallying 5.47 runs per game (the Majors' best mark from Aug. 30 through the end of the season). If Colon, Garcia and Dickey provide the stability that is expected, there is a possibility the club could at least compile a winning record and compete for an NL Wild Card berth.
• Submit a question to the Braves Inbox
This isn't to say we should rule out a possible division title. Instead, I'm simply saying the potential is there for this team to be in contention when September arrives.
The Braves suddenly found themselves with a legitimate big league lineup during last season's final two months. Now, they have to hope Matt Kemp can produce like he did after coming to Atlanta and Ender Inciarte has the same kind of success he had against left-handed pitching during the second half of the season.
One primary concern is whether the Braves have the offensive depth necessary to cover an injury that might sideline one of their position players for a significant stretch. But it's not like the NL East favorites don't have obvious holes as well. The Nationals have concerns about their bullpen and the Mets have to hope their talented young rotation proves to be healthier than it was last year, when they were able to rely on Colon to provide some stability.
Do you think the Braves' bullpen is reliable enough to carry us to and through October? There is a lot of youth in the bullpen, so why not grab an arm or two if we are seriously trying to contend?
-- Vince D., Orlando, Fla.
As I enter my 17th season covering Atlanta, I don't remember the club ever previously going to Spring Training with this many legitimate options to put in the big league bullpen. It could fill a seven-man bullpen by simply using this mix of returnees: Jim Johnson, Arodys Vizcaino, Mauricio Cabrera, Jose Ramirez, Ian Krol, Josh Collmenter and Chaz Roe.
But the Braves have routinely indicated they are planning to use an eight-man bullpen. Given what Krol did against left-handed hitters last year, the team is certainly hoping that one of these eight spots is filled by Paco Rodriguez, who had success against lefties before his elbow sidelined him two years ago. There's also a possibility a spot could be given to Rule 5 Draft pick Armando Rivero or veteran Blaine Boyer, who will come to camp with a Minor League deal.
There will also be a lot of buzz in camp about A.J. Minter, the talented left-handed prospect who has a strong possibility of earning a spot in Atlanta at some point this year.
Yeah, there's reason to wonder whether Vizcaino can stay healthy and whether Cabrera and Ramirez can build on the improved command they displayed last year. But instead of paying the escalated market price for free-agent relievers, the Braves stuck with what they had and added the likes of Boyer and Rivero to serve as insurance.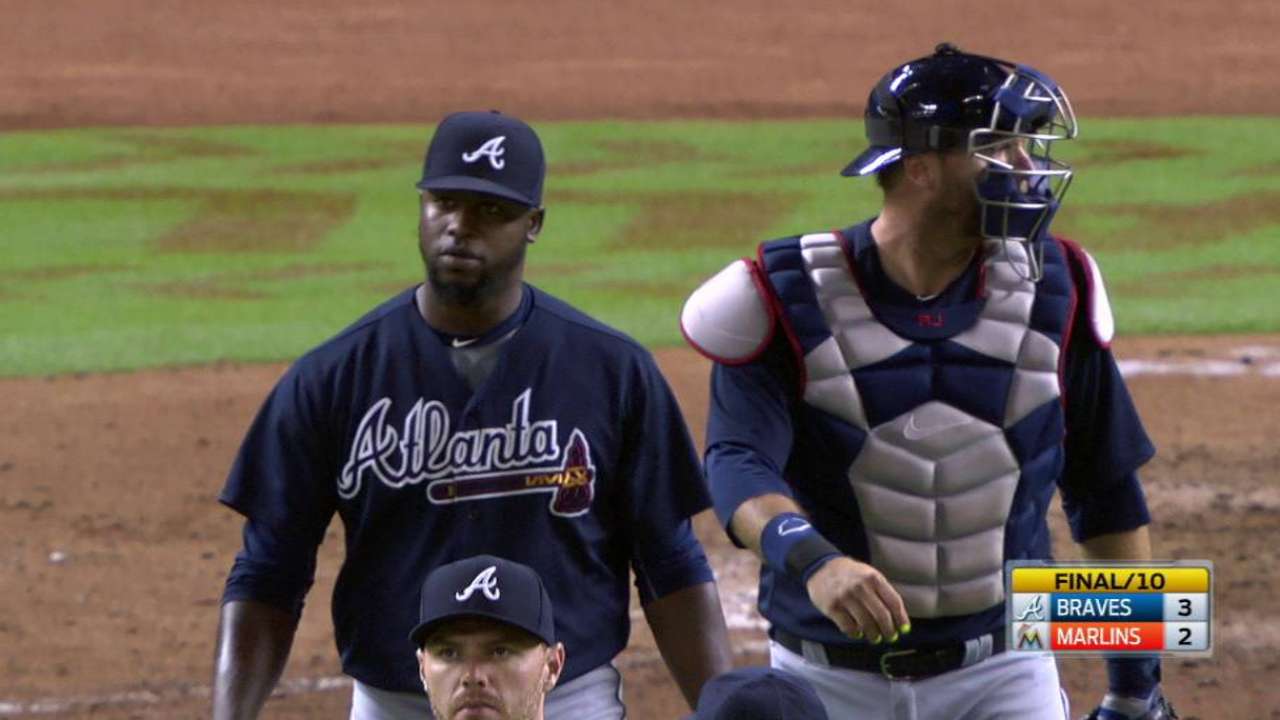 With the possibility he could have long-term effects after fracturing his right elbow, should the Braves try to move Ozzie Albies for an established second baseman or third baseman?
-- Phil K., Buffalo, N.Y.
Maybe this is a slightly conservative response given the fact that anybody is available if the return is right. But before simply assuming Albies -- the club's No. 2 prospect, according to MLB Pipeline -- might be burdened by long-term lingering effects from the elbow, Atlanta should at least see how he responds. Even if he struggles this year, he'll still be just 20 years old at this point next year. There's certainly no reason to rush the development or evaluation of a young talent like this at this stage of his career.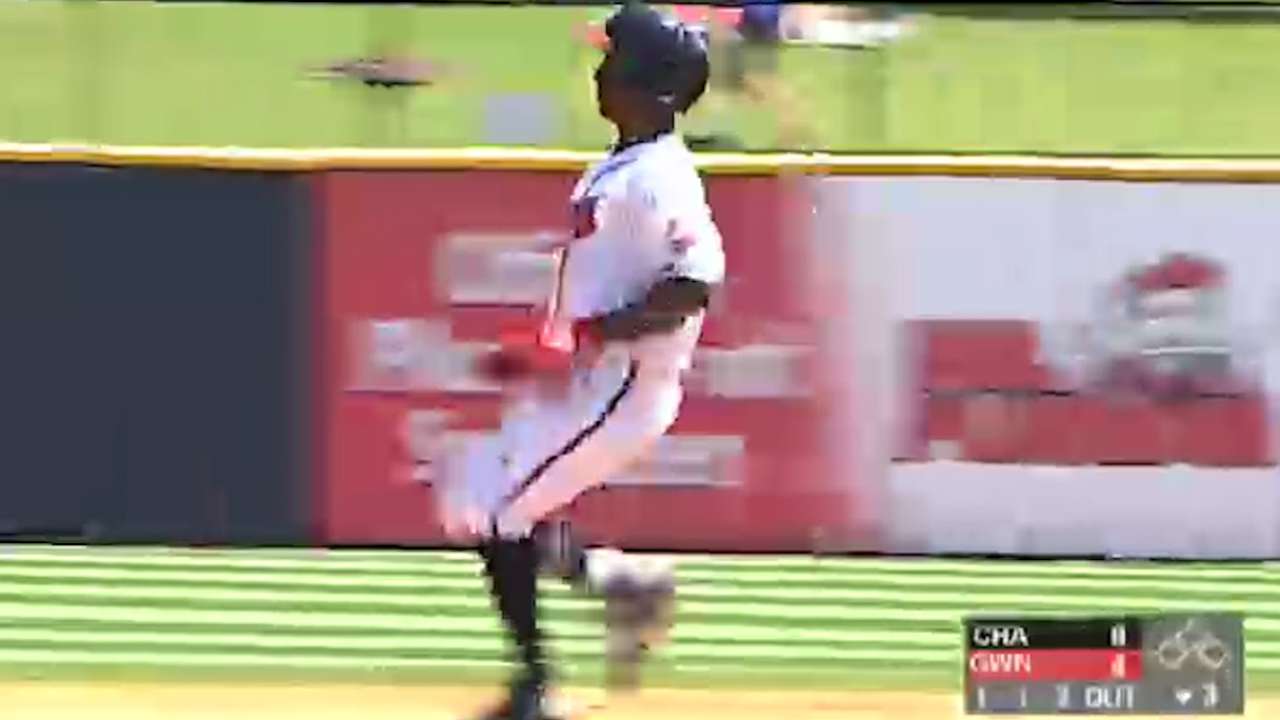 Even if you're looking at it from the sense that Travis Demeritte will develop to the point where Albies might be deemed expendable at some point within the next couple years, I think it makes much more sense to patiently allow Albies to recover from this injury and possibly strengthen his current trade value, which is certainly influenced by the fact that we simply don't know whether there will be long-term lingering effects.
What are the chances that Kris Medlen makes the Opening Day roster?
-- Andy B., Montgomery, Ala.
Medlen did not receive a Spring Training invitation with his Minor League deal because he is a little behind schedule as he continues to overcome the shoulder issues that sidelined him most of last year. But the work he has done with a biomechanics instructor over the past few months have given him and the Braves hope that he could be pitching again a couple months into this season.
Mark Bowman has covered the Braves for MLB.com since 2001. This story was not subject to the approval of Major League Baseball or its clubs.