Braves trade Chacin to Angels for lefty prospect
Perez recalled from Triple-A to make start vs. Phillies on Wednesday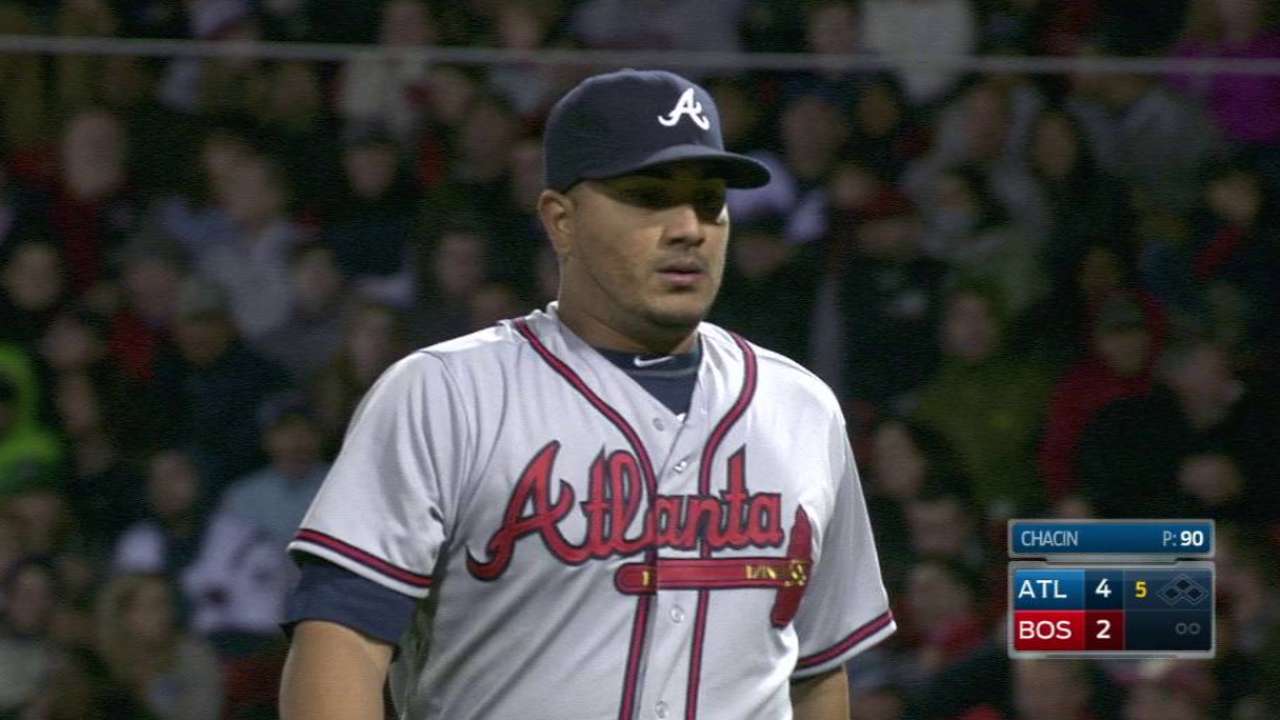 ATLANTA -- As the Braves progress through the remainder of this season, they'll get a better feel for the potential future makeup of their starting rotation, which got a little younger on Wednesday, when Jhoulys Chacin was traded to the Angels for Minor League pitcher Adam McCreery.
Given that McCreey is 23 and has never pitched above the Rookie level during either of his two professional seasons, it will take some time to learn if the Braves took a successful gamble on this 6-foot-8 left-hander, whose velocity has improved as he's spent the past month at extended spring training.
But the deal was primarily made to give Atlanta a chance to fill a rotation spot with a pitcher who potentially has a long-term future with the club. Chacin had been scheduled to start Wednesday night's game against the Phillies, but once the trade was completed, Williams Perez was officially recalled from Triple-A Gwinnett to make the start.
"We're trying to build around young players," Braves general manager John Coppolella said. "This gets one more young starter up here for us. Every starter we have is age 25 or younger and is signed for the next five years."
Perez certainly strengthened his bid to stay in the rotation during Wednesday nights' 5-1 win over the Phillies. He allowed one run and faced just one more than the minimum over eight innings. If he extends this success, the Braves may need to wait a little longer to promote either Tyrell Jenkins or John Gant from Gwinnett. Lucas Sims has impressed this year, but he likely will not be deemed a legit candidate for Atlanta's rotation until later this summer.
"There are a couple guys out there who are making noise," Braves manager Fredi Gonzalez said. "We want to get younger. I can't give you a specific schedule as to when those guys are going to be here. I've always been a big believer that they will let us know [when they're ready]."
When the Braves entered this season, it was assumed that Bud Norris and Chacin would remain in the rotation for a couple months until some of the club's prospects were deemed Major League-ready. Now that both of these veterans have been removed from the picture, Mike Foltynewicz, Aaron Blair and whoever ends up filling this recently created rotation void on a long-term basis will have a chance to give the club a better feel for how the rotation might look next year and beyond.
The five current members of Atlanta's rotation -- Julio Teheran (107), Matt Wisler (25), Perez (24), Foltynewicz (17) and Blair (3) -- have combined to make 176 career starts.
McCreery produced a 3.55 ERA, recorded 49 strikeouts and issued 33 walks over 38 innings at the Rookie level over the past two seasons. His fastball has been routinely clocked at 88-90 mph in the past, but a Braves scout recently saw him hit 93 mph during an extended spring training game.
"I'm not saying this guy is Randy Johnson or Andrew Miller, but they all took some time to get to where they got as big-bodied left-handers," Coppolella said.
Mark Bowman has covered the Braves for MLB.com since 2001. This story was not subject to the approval of Major League Baseball or its clubs.